"I tried to run from my problems and run from the drugs…but when you're the problem, the trouble comes with you." shares TROSA program resident Phillip. TROSA is a multi-year, residential substance use disorder treatment program. As a peer-driven program, every participant helps fellow residents on a daily basis. Helping others has helped Phillip in his recovery. 
Before starting treatment at TROSA, Phillip was trained as an electronics engineer. Opportunities took him from his hometown of Rutherford County, North Carolina to California. He gained professional success, but struggled with active addiction for over twenty-five years. He decided he needed a change and applied to TROSA's residential treatment program.
"I was seeing the path I was heading in, and I didn't like where my life was going. It wasn't a life I wanted. I had money. I had a fully furnished house. I gave it all away…it was all just stuff. It was time for a change."
At TROSA, residents learn to face challenges and celebrate successes in healthy ways. Phillip has taken several classes to help with his recovery. "Every class has been helpful; especially Anger Management…learning where the anger is coming from. And my Healthy Relationships class really opened my eyes."
As a thoughtfully-structured multiyear program, community assignments are an important part of our program. Within community assignments, residents learn new life skills; discover new talents and strengths; and have the opportunity to actively practice living in recovery with others. Phillip's community assignment has been in TROSA's Construction department, gaining hands-on experience in everything from the main office duties to equipment maintenance.
Phillip is now well-versed in repairing TROSA's multi-property commercial equipment, chiefly our steel equipment. Along the way, he has earned professional certifications and credentials, which include Environmental Protective Agency (EPA) Universal Certification.
"I never worked with or had a background in this, but I just learned. I have endless supplies of practice equipment here at TROSA, and mentorship from staff members."
This year, Phillip was able to put his vocational skills learned at TROSA to the test as he was part of the team that helped prepare our new Winston-Salem campus for state licensure. His contribution to the growth of TROSA's program will help more individuals needing long-term comprehensive treatment.
"I helped a lot with our electrical…especially with the new kitchen. We've got good teams here. Especially our construction team. It's just great to be a part of it. Seeing how TROSA in Durham is an ever-evolving program, it's great to think about the Winston-Salem campus and how that's going to grow. Addiction is ongoing and safe places that don't cost anything are few and far between."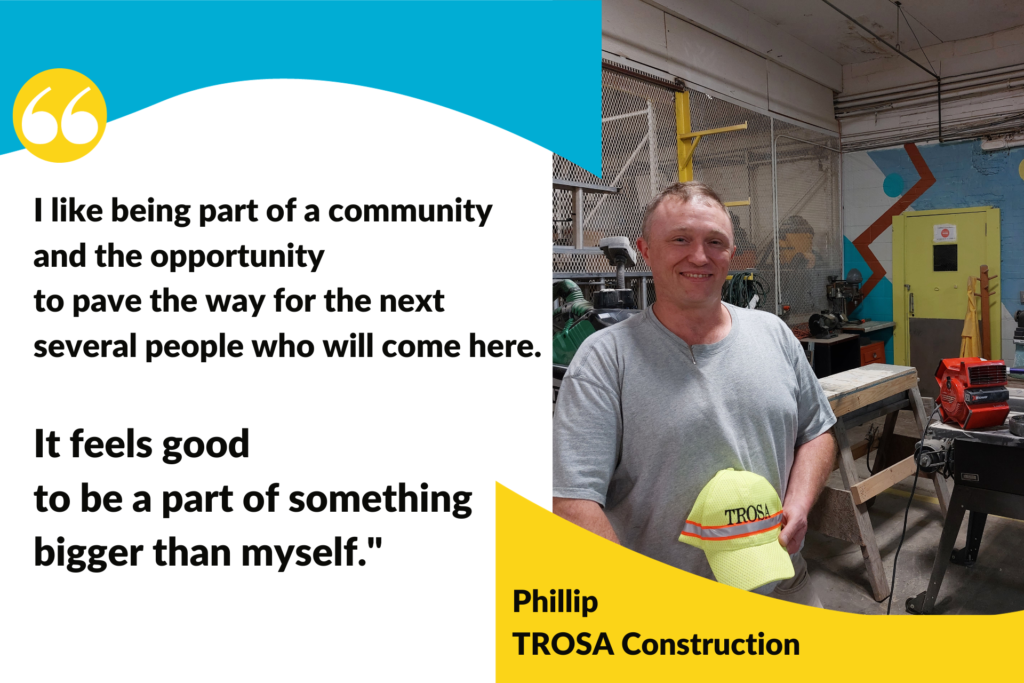 Phillip is proud of his personal achievements and credits TROSA with helping him to focus on rebuilding a life in recovery.
"I don't have to worry about anything here. I'm forty-five, and I've had the gas pedal down the whole time. I've missed a lot in my life. So, I'm trying to take it slow and I value that I can take this one-day-at-a-time. I've established my boundaries. I'm trying to relax."
Confident in his skill sets and aware of the value in communicating and forming connections with others, Phillip freely gives back to help fellow residents. He successfully applied to our Post-Graduate program and will continue to receive services while serving as a mentor to others. "I'm at the point in my program now where I'm an asset to the program. At first you're getting yourself acclimated to the program, especially those first few months. Then you're getting to know your crew; and then the next whole year you are helping the next person coming through.
"I want to reassure people that you will get better. People sometimes say that 'it gets better' – 'It' doesn't get better. 'You' get better.
"In my community assignment, I get to show people what I do by having them learn alongside me. I play my part in the community. I like being a part of a community and the opportunity to pave the way for the next people who will come here.
"It feels good to be a part of something bigger than myself."