The goal of TROSA community assignments is to provide residents with team-based environments to learn and practice daily skills for long-term recovery. Community assignments are determined by a team of staff and take residents' therapeutic needs into consideration. Community assignments can be in departments throughout our campus, including our award-winning social enterprises.
As an evidence-based peer-driven program, TROSA relies on the members of its community–our residents and staff–to help shape the day-to-day activities of our campus. Each element or activity of TROSA's program has therapeutic and/or educational value that reinforces community connection. You can read more about our program outcomes on our Annual Reports page.
Community assignments are an important part of our behavior-change model. Within community assignments, residents learn new life skills and talents and have the opportunity to practice living in recovery with others. As part of a full comprehensive range of activities and services, TROSA residents participate in community assignments that play a key therapeutic role in their recovery.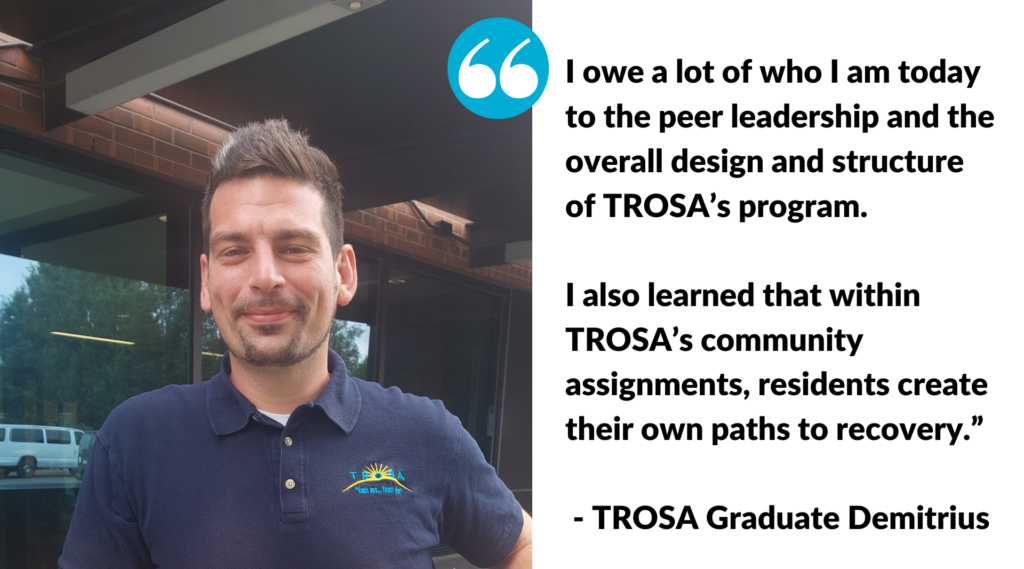 TROSA Community Assignments Play a Key Therapeutic Role
When participating in community assignments, residents can identify adverse thoughts, feelings, and behaviors they want to change through their daily activities, and can practice making those changes safely with peer mentors and staff.
Peers and staff have the opportunity to observe residents' participation in community assignments and can address behaviors, thoughts, and feelings in real-time. Observations and peer feedback are noted in residents' individualized treatment plans and when assessing readiness for program stage completion. These observations can also result in recommending residents for counseling or classes such as Anger Management or Grief & Loss. 
As an experiential training environment, community assignments introduce residents to daily activities and responsibilities they may confront when they leave our program. Community assignments provide the time, tools, and opportunities to learn how to newly navigate the world without drugs and alcohol. 
Community assignments also provide structure and purpose to one's day. The Substance Abuse and Mental Health Services Administration (SAMHSA) identifies "Purpose" as one of four major dimensions of recovery. SAMHSA is the agency within the U.S. Department of Health and Human Services that leads public health efforts to advance the behavioral health of the nation.
A Thoughtfully-Structured Program
TROSA is a thoughtfully-structured, multi-year program. Residents are not given a community assignment right away. The first 30 days at TROSA are called "Internship," and individuals are placed in peer cohorts with others who are also just starting the program. 
These first 30 days at TROSA focus on acclimating to early recovery, learning all about our program, and being mentored by more senior residents and staff on the process of recovery. Individuals at this stage are also receiving evidence-based instruction and classes on topics such as stress management and regulating emotions. After 30 days, interns are placed in their first community assignments.
TROSA Community Assignment Placements in a Supportive Environment
TROSA community assignments are determined by a team of staff and take residents' therapeutic needs into consideration.
Some community assignments are in our award-winning social enterprises (TROSA Moving; TROSA Lawn Care; TROSA Thrift Store), and many assignments help with campus day-to-day activities in departments as varied as: Medical; Admissions; Men's and Women's Programs; In-Kind; Food Service; Transportation; Accounting; Automotive/Truck Shops; Warehouse/Inventory Management; Property Maintenance; Construction; and more.
Community assignments provide an environment of support, accountability, and mentorship with peers and staff. It's a safe space to grow and learn new skills and talents; receive real-time life lessons on how to communicate, trust others, and resolve conflicts; build confidence; and learn how to work well with and lead teams. 
Evidence-Based Treatment Helps Residents Seeking Employment
TROSA community assignments also provide opportunities to learn marketable vocational and life skills, gain specialized training, and earn professional credentials. Residents' accumulated experiences and successes in their community assignments are incorporated into their resumes and interview preparations.
TROSA's reputation as an award-winning and evidence-based treatment program helps our residents when they start to look for employment. Residents approaching their program completion seek employment in the greater Triangle region through our program's "Work-Out" phase, where their community assignment is to find and secure employment. TROSA continues to provide our cost-free comprehensive residential treatment services while residents are participating in this phase of their program. Residents have the opportunity to build savings and participate in our continuing care services for program graduates. 
Our residents find that the life skills and talents learned and practiced through community assignments result in quick employment offers. For example, during TROSA's 2021-2022 fiscal year, 99% of our residents in the "Work-Out" phase of our program secured employment. Community assignments strengthen the foundation for steady employment, which is a predictor of long-term recovery. 
To learn more about TROSA's program, visit our Program Services page. You can also learn more about TROSA by reading the stories and experiences of TROSA program graduates.