After 18 years as Women's Program Director, Sandie Alger is taking on a new role and will be our TROSA Women's Program Senior Advisor. Susan Mowery (2009 TROSA Graduate) is now our new TROSA Women's Program Director! TROSA celebrated Sandie and Susan both at a special campus-wide gathering on March 7, 2022, marking the official "passing of the torch" from mentor to mentee.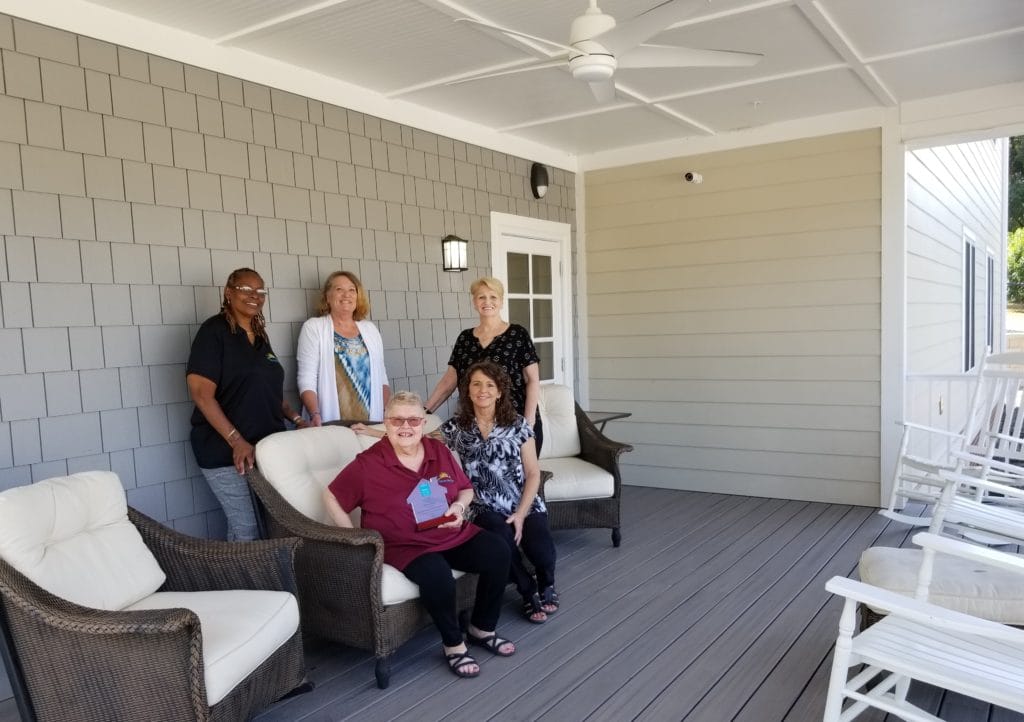 About Sandie:
Sandie joined the TROSA team in 2004. She was hand-picked and hired by TROSA Founder Kevin McDonald to create the TROSA Women's Program, bringing her decades of experience in recovery to the TROSA campus. Sandie introduced new classes and therapeutic activities, trained staff, and tirelessly advocated for our female residents. "TROSA had women in their program before I came along," shares Sandie. "But we saw the huge potential to take all that was great about TROSA and make it so much better for the ladies in recovery. We all learned a lot those first few years and I am so proud of our program's growth."
In her new role as TROSA Women's Program Senior Advisor, Sandie will continue to mentor both residents and staff alike, drawing from her decades of direct experience serving individuals with substance use and mental health disorders. Sandie holds a BA in Human Relations from Golden Gate University and is a Certified Alcohol and Drug Counselor. The Triangle Business Journal recognized Sandie with its 2014 Women in Business Inspiration Award.
Sandie's new role as Women's Program Senior Advisor "is like a dream," shares Sandie. "I get to do all the things I love doing at TROSA. I am continuing with my counseling, my treatment plans for residents, and teaching our Seeking Safety class for our interns [the newest residents in our program]. And I am so excited for TROSA's continued growth, which includes building our T-East Women's Campus in Durham with new housing and a new community center for our Women's Program. And I am especially excited for and proud of Susan Mowery and her new role as Women's Program Director. Susan is fabulous. She's learned all my good qualities and of course has her own set of qualities that are unmatched: her boundless energy, her strength, and her ability to connect to others. She is an unbelievable role model. She is Superwoman–she can truly do anything and we are so lucky to have her."
In 2015, Sandie participated in an early episode for the popular Criminal: A Podcast. You can hear Sandie's incredible story of recovery by clicking here. "The most important thing for my women is that they feel safe at all times. Many of them have never felt safe before they came here ever, as children or as adults. And so they have to feel safe."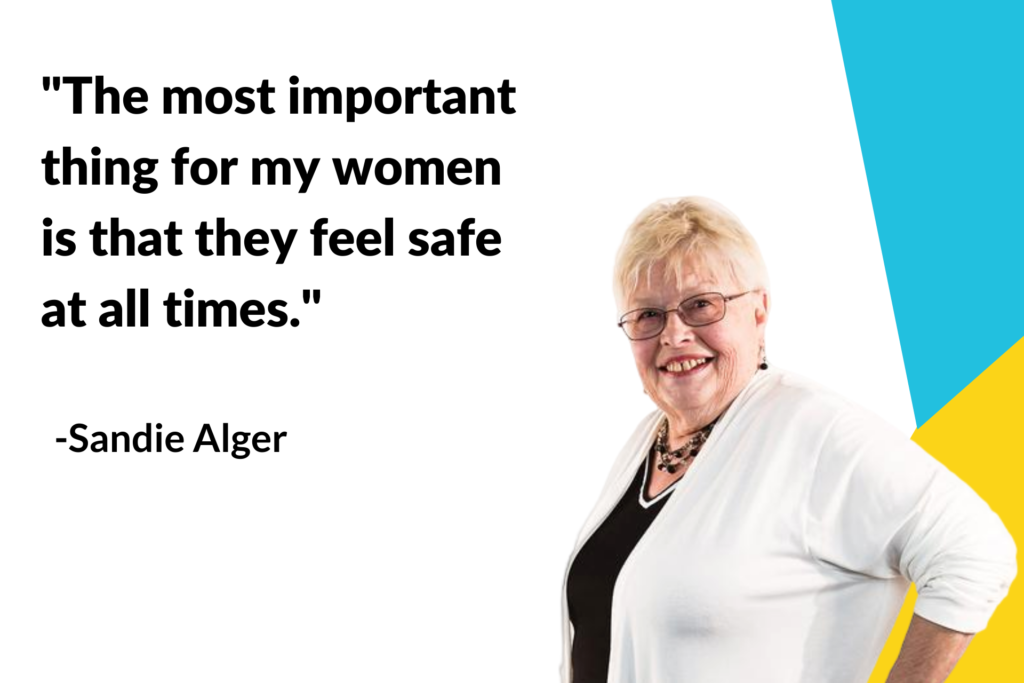 About Susan:
Susan graduated from TROSA's program in 2009 and became a staff member in 2011. As a staff member, Susan first served as TROSA's Frame Shop Supervisor and then as Furniture and Frame Shop Manager. In 2012 she started her tenure as Assistant Women's Program Director.
"Before TROSA, I didn't know how to express myself," shares Susan. "I was either extremely happy or angry. I couldn't identify emotions and why I was feeling some ways. I had never really looked at the issues that were hard for me—I just got high. I really struggled with asking for help. Learning that it's ok to lean on someone when needed…learning it's ok to trust people. These are all things I learned directly from TROSA and from Sandie Alger specifically. Learning how to ask for help and how to give help to others are important lessons that everyone needs to learn.
"There are so many success stories at TROSA…residents getting children back…raising their families…living happy, full lives. Helping people figure out how they want their futures to look and what their plans are to achieve their goals—that's incredible. We teach people how to live life again."