TROSA Thrift Store is expanding to Winston-Salem and celebrating with a soft opening! After many years of serving North Carolina's Triangle region with our award-winning store in Durham, we're excited to join the Winston-Salem community. Our new thrift store was organized by graduates and residents in our program and they are proud of their efforts to make sure our store of 20,000+ sq. ft. of shopping space looks great. Support of our new thrift store will help us continue to rebuild lives in recovery. TROSA Thrift Store Winston Salem Soft Opening dates will be held on the following dates in June, July, and August (we will open more days in August):
Dates: June 12, 13, and 20; July 11, 12, 17,  24, 31
And then starting August 1, TROSA Thrift Store Winston-Salem will be open Mondays – Thursdays.
Location: 3187 Peters Creek Parkway, Winston-Salem
Time: 11AM – 6 PM for all soft open preview days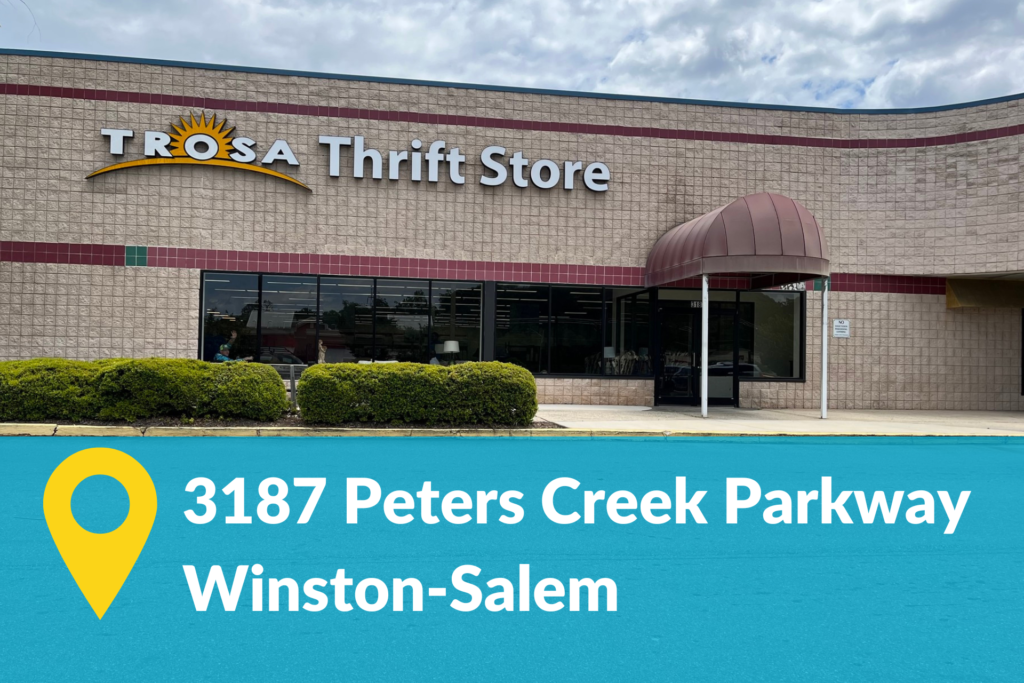 Accepting Donations
You can support TROSA Thrift Store Winston-Salem by shopping in store or by making donations of items. We can arrange donation pickups. Call the Winston-Salem Thrift Store at 336-967-8772 for more information.
More Than Just a Thrift Store…
Supporting TROSA's Thrift Stores helps TROSA provide our multi-year residential treatment program and services. TROSA Thrift Store is one of several community assignment departments that give our residents the opportunity to gain experiential vocational training and important life skills. Community assignments like the TROSA Thrift Store play an important therapeutic role within our treatment program, helping our residents learn and practice living life in recovery. TROSA is just starting to welcome residents to a new campus in Winston-Salem. A small team of residents and staff are actively paving the way to soon accept new residents to our first-ever satellite campus.
TROSA's Winston-Salem Thrift Store Manager can speak personally to how TROSA has changed her life.
After years in addiction, Angela tried TROSA's residential multi-year treatment program. At TROSA, Angela was able to focus on behavior changes while learning and practicing new life skills. With community support, she identified and addressed the issues and emotions driving her addictions. Her determination, coupled with infectious enthusiasm, made a positive impression on all those around her.
After graduating from TROSA's two-year program, Angela was asked to join the staff as Admissions Manager. An accomplished and compassionate leader, Angela has earned many credentials, including North Carolina Certified Peer Support Specialist and Certified Alcohol and Drug Counselor (CADC).
Today, Angela is taking on a new role to help even more people. She will serve as our new TROSA Thrift Store Manager in Winston-Salem. "Taking on this new role allows me to learn new skills while still contributing to the care and well-being of our residents, which gives me purpose."
Angela's presence as our Thrift Store Manager will be vitally important. "Residents see TROSA program staff in long-term recovery and it gives them hope. I am proud of who I am today. And I am excited to be involved in this moment of growth for TROSA."