After decades of successful evidence-based program implementation for men and women with substance use disorders, TROSA looks forward to expanding our services with a satellite campus in Winston-Salem this year. The campus expansion is supported by a funding allocation from the North Carolina General Assembly.
"We are so honored and proud to receive this support from the State of North Carolina," shares TROSA President and CEO Keith Artin.
"This funding is critical to advancing our plans to build a 200-bed facility in Winston-Salem. We have been planning a phased approach to our construction and this grant makes it possible for TROSA to realize our plans more efficiently and at a faster pace. Knowing that we have the financial resources to continue building this campus, we can now fully concentrate on planning our program operations details. We know that many individuals, families, and communities are struggling with addiction and this funding helps us expand our award-winning treatment program to reach more North Carolinians in need of comprehensive, long-term residential care."
TROSA Triad campus
The Need to Expand
Throughout TROSA's 27-years' experience caring for individuals with substance use disorders–and advising other treatment programs across the country–we have often been asked to replicate our award-winning program.
"When I started in 2001, I remember being approached by people looking for us to expand and to start TROSA elsewhere, and for many years we held back," shares Artin. "We wanted to make sure we got the program right and that we could effectively create a new campus with the same level of exemplary care that we have here in Durham.
"TROSA continued to grow, and several years ago we were serving a daily average of more than 500 individuals. Part of what makes TROSA residents successful in their long-term recovery are the personal connections they form on campus through community assignments, groups, classes, and activities. We know more people need our help, but we don't want to be so large at one location that we risk losing the benefits of a close-knit community. We realized that for us to serve more people better we needed a second campus at another location, so that people could continue to stay connected and feel a sense of shared purpose."
After years of planning, TROSA secured a long-term lease on a facility owned by Forsyth County and broke ground on its new campus construction in April 2021. Click here to learn more and view our groundbreaking video highlights.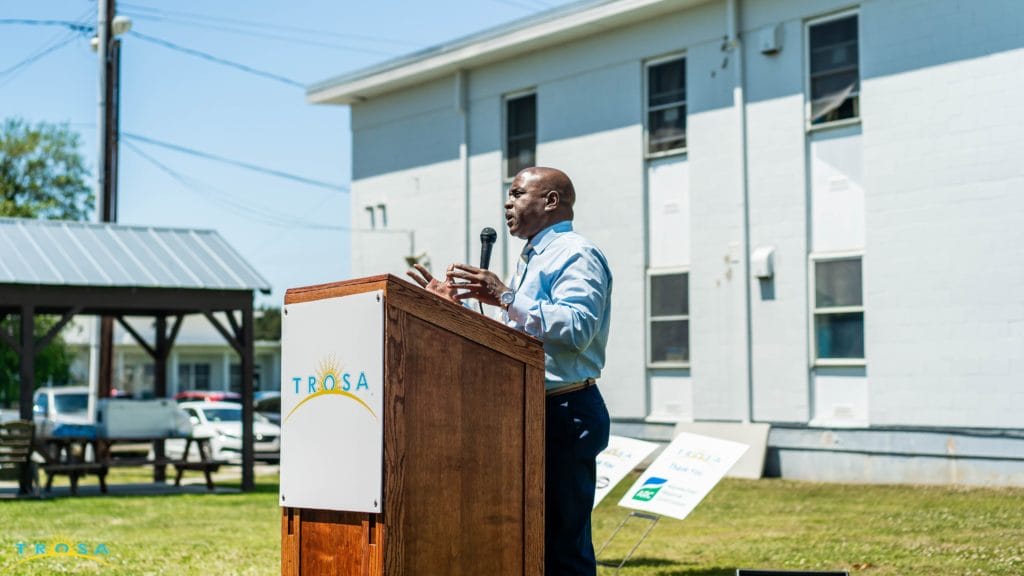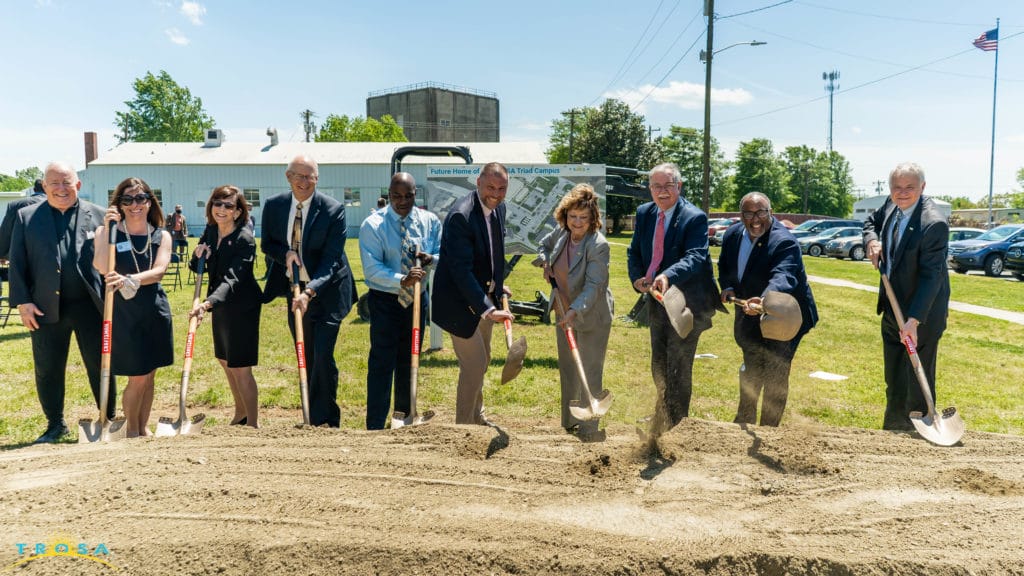 TROSA has also secured a lease for a 40,000 square-foot commercial property in Winston-Salem for a thrift store that will open in 2022. The thrift store will provide marketable vocational training for residents and will serve as a social enterprise to help fund the program.
Serving the Triad Region
TROSA is based in Durham but has no geographic requirements for residents. We have served residents from all 100 counties in North Carolina. We saw that individuals from the Triad region of North Carolina were historically among our most-served residents, and we also knew that our outreach to the more western parts of North Carolina was not as robust as our reach to the central and eastern parts of our state. Securing a campus in Winston-Salem means we will be able to efficiently utilize services and staff currently located at our Durham campus to reach more North Carolinians, especially in the Western counties.
"As a program, TROSA is constantly innovating and looking for ways to be better and to best steward the public and private support we receive," shares Artin. "A campus in the Triad allows us to do just that."
TROSA's Durham campus benefits from impactful partnerships with Triangle-region health, education, and social service providers. TROSA's staff, led by Senior Director of Community Partnerships Jesse Battle and our clinical operations team, have already established Triad-region community partnerships to help provide the same quality of services for our Winston-Salem campus.
TROSA Triad Director Pierre Bynum has worked at TROSA for 20 years and has experienced our decades-worth of community-building firsthand. He looks forward to growing these community relationships in the Triad region: "I'm just excited to work with this wonderful community in the Triad," says Bynum. "We teach our residents not to just be in a community, but to be part of a community, and that's what we're hoping to bring here…to be a part of the Winston-Salem community. As Director, I want to hold true to the belief that we're only as strong as our community, and we're going to do everything we can to establish that community."
About TROSA
Founded in 1994, TROSA is a licensed, multi-year, cost-free non-profit residential treatment center. TROSA's cost-free services include:
housing, clothing, meals, and all daily personal care needs;
counseling and daily therapeutic activities;
experiential vocational training;
classes on life skills and recovery;
health services, including dental and specialty care;
education opportunities to earn a GED, take college courses, and earn certifications; continuing care for program graduates; and more
Free Treatment
TROSA is a free treatment program and one of the largest residential treatment programs in North Carolina. Keeping our program free of charge provides residents the time, tools, and resources to fully focus on their recovery. Services are provided by licensed and certified treatment professionals, program graduates, peer leaders, and trained peer support specialists.
TROSA's program model focuses on empowering individuals to make behavior changes that promote long-term recovery. Building upon the therapeutic community approach to recovery, TROSA's model stresses personal responsibility, developing a network of peer support, and practicing daily behavior changes–all with the goal of achieving a better life.
TROSA serves individuals from all walks of life who struggle with addiction and who face multiple barriers to success before starting our program. In 2020-2021, 87% of TROSA residents experienced periods of incarceration before starting TROSA's program, 86% had no insurance, 67% reported multiple drugs of addiction before starting TROSA's program, and 46% reported being homeless (though many more were unstably housed). One year after graduation, more than 90% of TROSA graduates are still in recovery, still employed, and have no new criminal convictions.
In recognition of our effectiveness, TROSA has won many awards. Recent awards and honors include:
Addiction Professional's Outstanding Clinicians Award (2014) for TROSA Lead Clinical Counselor Lisa Finlay;
North Carolina Evidence Based Practices Center's Annual Advancing Evidence Based Practices Award (2018);
North Carolina Housing Finance Agency's Supportive Housing Development Award for our new homes for female residents (2021);
And in 2019 TROSA Chief Program Officer Karen Kelley was appointed by the Appalachian Regional Commission to represent North Carolina on its Substance Abuse Advisory Council, which makes recommendations for the Commission to consider as part of a strategic plan to build and strengthen recovery ecosystems.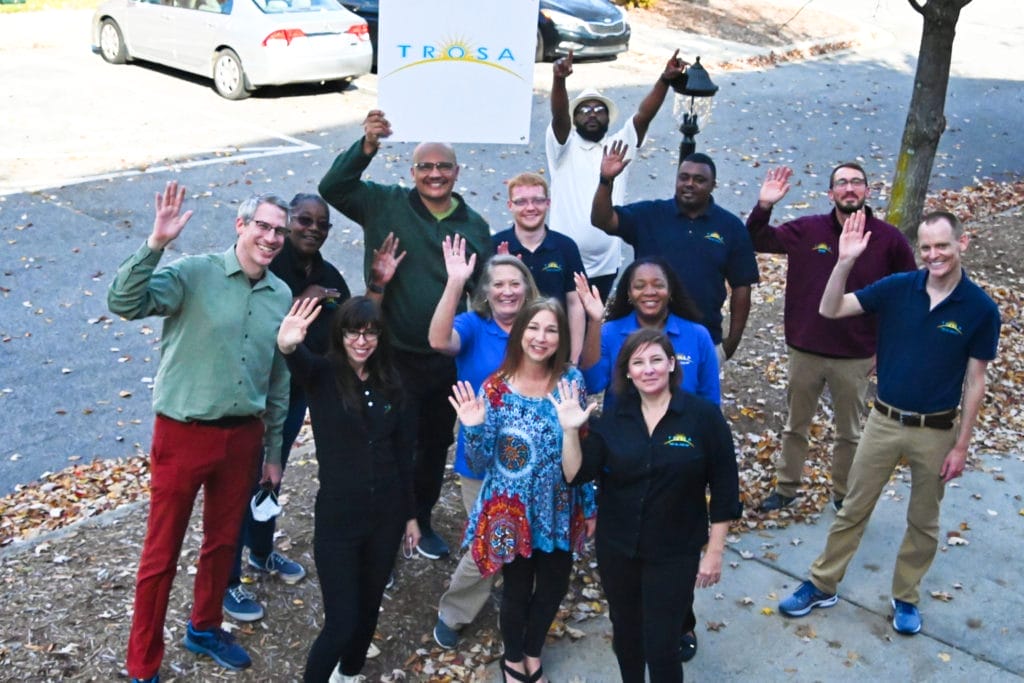 Meet Carl
TROSA staff have direct connections to the Triad as well. TROSA staff member Carl struggled with addiction for nearly three decades. Today, he is a proud TROSA graduate looking forward to helping TROSA establish its first satellite campus in his hometown of Winston-Salem.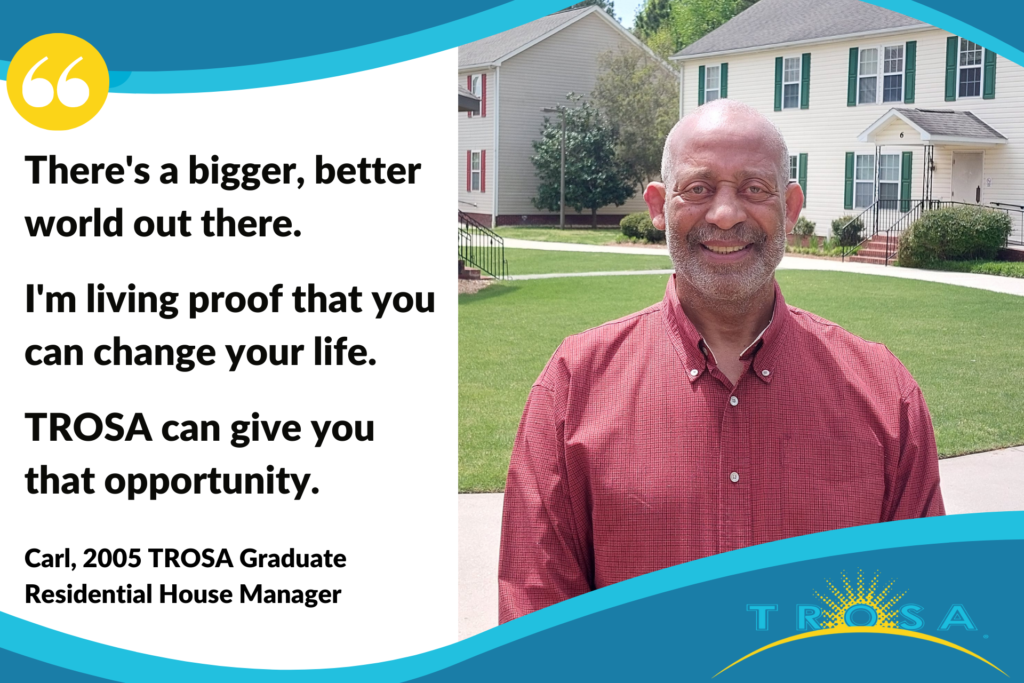 Carl enjoyed growing up in Winston-Salem and developed a passion for basketball, eventually playing for Fayetteville University. His freshman year introduced him to abusing alcohol and other substances. He eventually dropped out of college but found a good job. After years of living in addiction, Carl's life spiraled. Relationships with his family fell apart he found himself homeless. "I burned all of my bridges," he shares. "I would just walk around the streets and find money and then get high. That's all I did."
He sought refuge in shelters when he could, but also lived under bridges, alongside railroad tracks, and in abandoned houses and cars. Carl spent years homeless. "I knew this wasn't the life for me; but I didn't know where to go or what to do. Every time I tried to change, I just couldn't."
Carl learned about TROSA while at a shelter. He called and was accepted to the multi-year program. At TROSA, Carl attended classes, therapeutic group activities, and took advantage of outings to plays, sporting events, and concerts. "That was all an important part of my recovery, too. Just learning how to live alongside others. It kept bringing me back to who I really was before my substance use. Everything worked together to change my way of thinking about myself.
"I learned that TROSA's values are the same values that were taught to me as a kid—honesty, accountability, education. I learned about building a foundation for myself, and I had a community around me at TROSA that understood where I was coming from." Carl learned warehouse management, computer skills, and was able to obtain his Commercial Driver's License (CDL) through TROSA. A natural teacher, Carl was soon training other residents for their own CDLs, opening up valuable employment opportunities for residents to pursue after TROSA.
He graduated from the program in 2005 and successfully applied to stay longer to serve as a mentor to others in recovery. In 2009, he became a TROSA Staff Member. Today, Carl has a renewed relationship with his family and his drive, compassion, and capacity for helping others continued to flourish at TROSA.
"People need a sense of community and perspective and to learn to hold themselves accountable in order to truly change. People need to know that there's more to life beyond hanging out on a street corner. There's a bigger, better life out there. TROSA can give you that opportunity."