TROSA Director of Clinical Operations: Rebecca Graves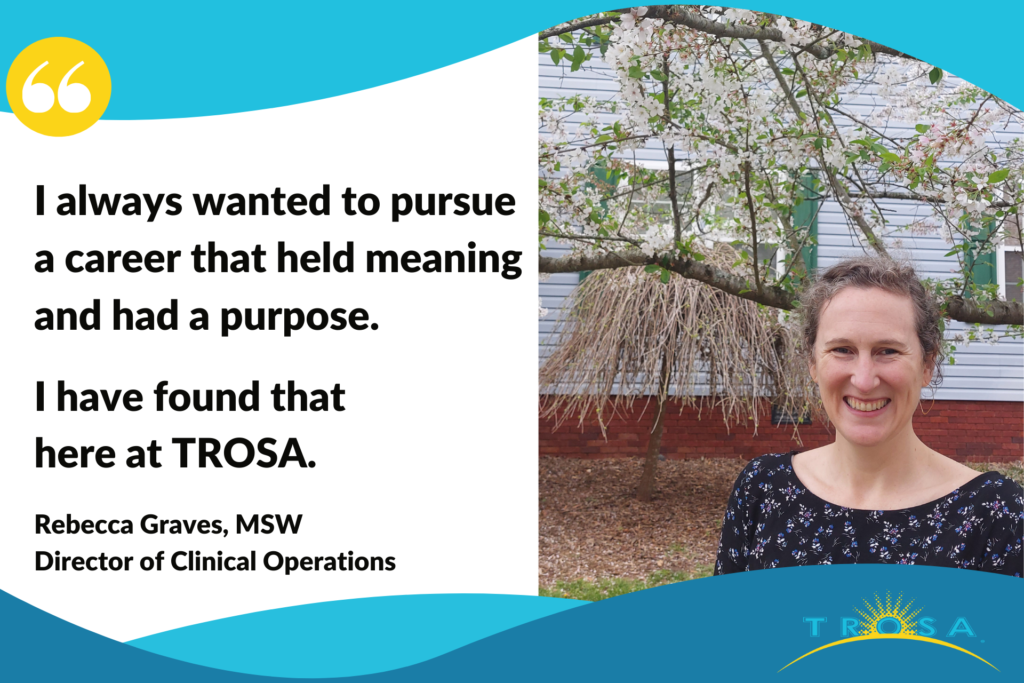 "I love working at TROSA because I get to see growth and change every day. I love getting to know our residents and graduates over the years. TROSA creates second chances–especially for people who were not given the same opportunities to thrive as others. Our program model empowers people to live the lives they deserve. In providing these opportunities, we're helping promote a more equitable community and just society. It's a wonderful thing to be a part of." – TROSA Director of Clinical Operations Rebecca Graves
Rebecca learned about TROSA in 2009 while touring our Durham campus as a UNC School of Social Work master's degree student. She talked to the UNC School of Social Work about creating an internship placement at TROSA and interned for our long-term residential recovery program during her second year of graduate studies.
After graduating with her MSW degree, TROSA hired Rebecca to assist with the operations of its Medical, Admissions, Education, Counseling, and Continuing Care departments. Today she supervises these departments; conducts TROSA's data collection and analysis; and makes decisions about program policies, procedures, and implementations.
Rebecca's expert direct experience with TROSA's detailed day-to-day program needs and activities has earned her a new title as well: TROSA Triad Operations Director. She will oversee program operations for TROSA's new satellite campus in Winston-Salem, North Carolina.
"I always wanted to pursue a career that held meaning and had a purpose. I have found that here at TROSA."
TROSA Clinical Counselor: Chris Toenes
"I love that TROSA is a community of like-minded people driven to help others and each other." – TROSA Clinical Counselor Chris Toenes
Chris has worked at TROSA for seven years and provides individual psychotherapy, group therapy, reviews psychiatric criteria for admissions, and promotes self-care within his counseling team. He also supervises Masters of Social Work students from local universities. A Licensed Clinical Social Worker and Licensed Clinical Addictions Specialist, Chris earned his degree from NC State School of Social Work with special concentration interests in psychotherapy, substance use, crisis intervention, and social justice.
He first heard about TROSA as a community member: "I knew about TROSA and really admired the program, but learned more when I volunteered as a tutor in the TROSA GED program. When I first started working here, I told people I worked 'in a small town near Durham called TROSA', because that's what it feels like at its best."
Chris is thankful for the comprehensive services that TROSA residents receive which complement their counseling. "I appreciate the ability to do meaningful therapeutic work in a setting where residents also have many other resources when they leave my office."
Drawn to social work through friends and family, Chris shares: "I fell in love with the field of social work after being in a helping role in other parts of life, and witnessing friends who loved being social workers. My mother is also a retired social worker in my hometown and a great inspiration."
When asked what he enjoys most about working at TROSA, Chris replies: "Social workers are trained to consider the person-in-environment, and how a person might have acquired mental health symptoms or became involved in substance use. This can be a useful perspective in reducing stigma and shame with clients at TROSA. I am grateful to be a social worker working in the substance use field. It is enriching work, and I encourage future social workers to consider it."
Special Note: The above spotlights were shared on TROSA's social media during the month of March 2022 to celebrate National Social Work Month. You can follow TROSA in Facebook by clicking this link.