Triangle Residential Options for Substance Abusers, Inc. is pleased to introduce Keith Artin as its new President and Chief Executive Officer (CEO).
Keith assumed the leadership role on July 1, 2020 and succeeds TROSA's founder, Kevin McDonald, who served as TROSA's President and CEO for over 25 years. Kevin will continue to work at TROSA in his new role as "Founder" where he will mentor residents and staff, advise on continuous improvements to TROSA's therapeutic program, and serve as a liaison to Triangle leadership and the recovery community.
This leadership transition was first announced to TROSA supporters in July 2019. Kevin McDonald shares that he "built TROSA to be larger than any one individual or leader and I'm confident that my vision –TROSA's mission – will continue to be in good hands with Keith."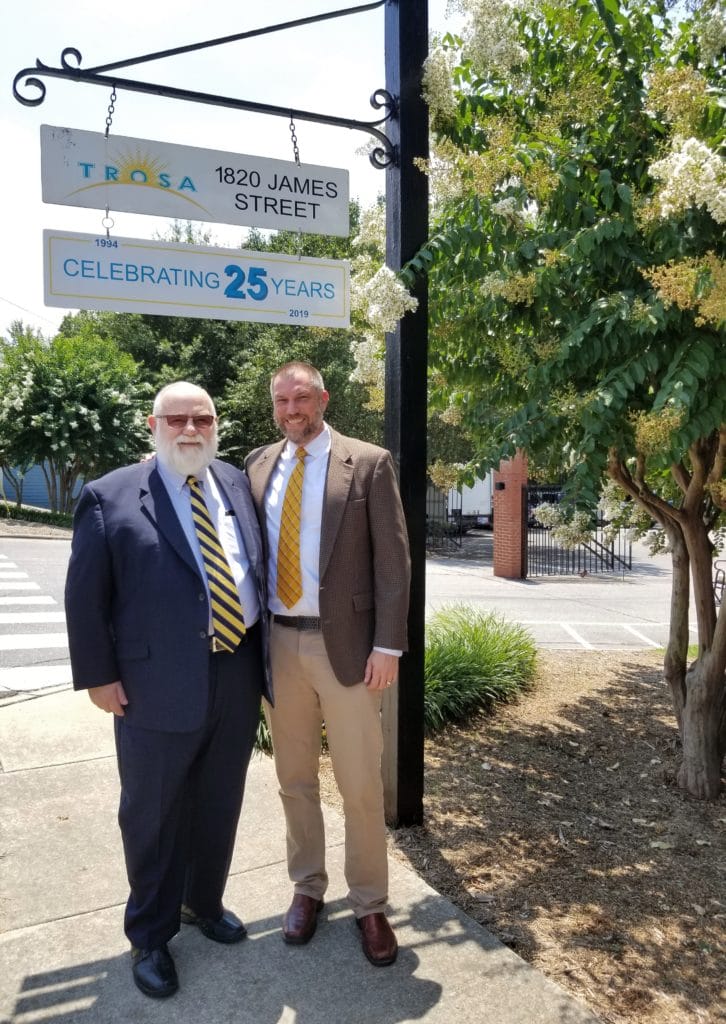 Keith joined TROSA in 2001 as a Special Projects Manager and then worked as TROSA's Chief Operating Officer (COO) for over 12 years. In the role of COO, he was responsible for internal operations, social enterprises, budget and insurance, and other duties that kept TROSA's program running smoothly and successfully. "I initially started at TROSA just to help out a friend who worked here part time with some projects and, within a few weeks, found myself here all the time – it is an amazing place. I knew I wanted to be a part of TROSA very quickly," Keith shares. "I saw my skill sets making a difference at TROSA and that was meaningful to me. I wanted to make a difference and help people."
Selected by Kevin and the TROSA Board of Directors to lead the award-winning nonprofit into its future, Keith looks forward to building upon TROSA's successes, expanding the program's capacity to serve more individuals in need of comprehensive recovery services, and upholding TROSA's mission and values of community and empowerment.
Active in the Triangle community, Keith believes in the importance of being a true civic partner and has served on the boards of Habitat for Humanity of Durham (2008-2013; 2015-2020), Downtown Durham Rotary (2017-2020), Chapel Hill Kehillah (2017-present), and Social Enterprise Alliance (2008-2011). He has also volunteered at the Durham Nativity School and Duke University's community freeform radio station WXDU. In addition, Keith has been a member of Downtown Durham Rotary since 2007 and is a graduate of Leadership Durham (2007) and Leadership North Carolina (2016).
Prior to his work at TROSA, Keith had years of experience working for entrepreneurial start-ups in investment banking and public finance, and served as General Manager for independent record label Merge Records. He holds an MBA from the Fuqua School of Business at Duke University, and received his BS in Commerce from the University of Virginia.
Reflecting on what makes TROSA a special organization, Keith shares: "TROSA gives those who truly want to change a real opportunity to achieve a better life. It's an organization that came into its own independently and showed people what was possible if you gave people a real chance. Kevin McDonald laid the foundation for TROSA to be a learning organization, one that is constantly evolving and striving to be better. I'm thankful for his leadership and guidance. We have a great team here and a lot to look forward to together. I'm most excited about the development of our first satellite campus, in Winston-Salem, and our new women's housing at our Durham campus."