TROSA's multi-year residential treatment program creates a community and network of support for individuals in recovery. TROSA graduates are not only making better lives for themselves and their families, they are also serving as positive influences for the communities where they live and work.
You may not know Robert by name, but if you live or work in the Triangle, North Carolina region of Durham, Raleigh, and Chapel Hill, you've certainly seen his craftsmanship. Robert owns Bull City Signs and you can find examples of his work here on his Gallery page.
Robert grew up in Virginia Beach and has lived in Durham since the early 1990s. He started to use substances heavily in his 20s. "Drugs and alcohol completely ruled my life," shares Robert. "My entire life was out of control. My mother kept suggesting I go to TROSA. Finally, after losing everything, I applied to TROSA and I started the program on July 25, 2005."
As part of TROSA's cost-free comprehensive recovery program, community assignments play a key therapeutic role in one's treatment. The goal of a community assignment is to provide residents with team-based environments to learn and practice daily skills for long-term recovery. Community assignments provide an environment of support, accountability, and mentorship with peers and staff. It's a safe space to grow and learn new strengths and talents while identifying and addressing behavior changes. Robert thrived at his community assignment at TROSA's Frame Shop.
During his program, Robert was mentored by a TROSA staff member who was managing the growing TROSA Frame Shop. When this staff mentor passed away at the age of 72, Robert picked up the torch and helped to manage the Frame Shop until the day Robert left the program in 2008. Today, TROSA's Frame Shop is incorporated into the award-winning TROSA Thrift Store social enterprise.
When asked about some of his most memorable moments while in TROSA's program, Robert speaks with pride about his hands-on experience helping to grow the Frame Shop. He also recalls his participation in the TROSA Band and gaining the confidence to perform in front of hundreds of people with his peers in recovery. "I really enjoyed running the soundboard the first year and then eventually taking the stage to sing with the TROSA Band at events like Durham's July 4th Festival for the Eno. All of the shows and rehearsals…it was an amazing time that I think about all the time."
After Robert graduated and left TROSA's program he started building his business. "In late 2008, I started making banners and small signs in my garage. Little by little it grew to be more than a hobby so I moved into a retail space in 2009. Through a lot of hours of hard work and providing a good product at a fair price, I have built a fairly solid business for me and my family. I also have several great, hard-working employees."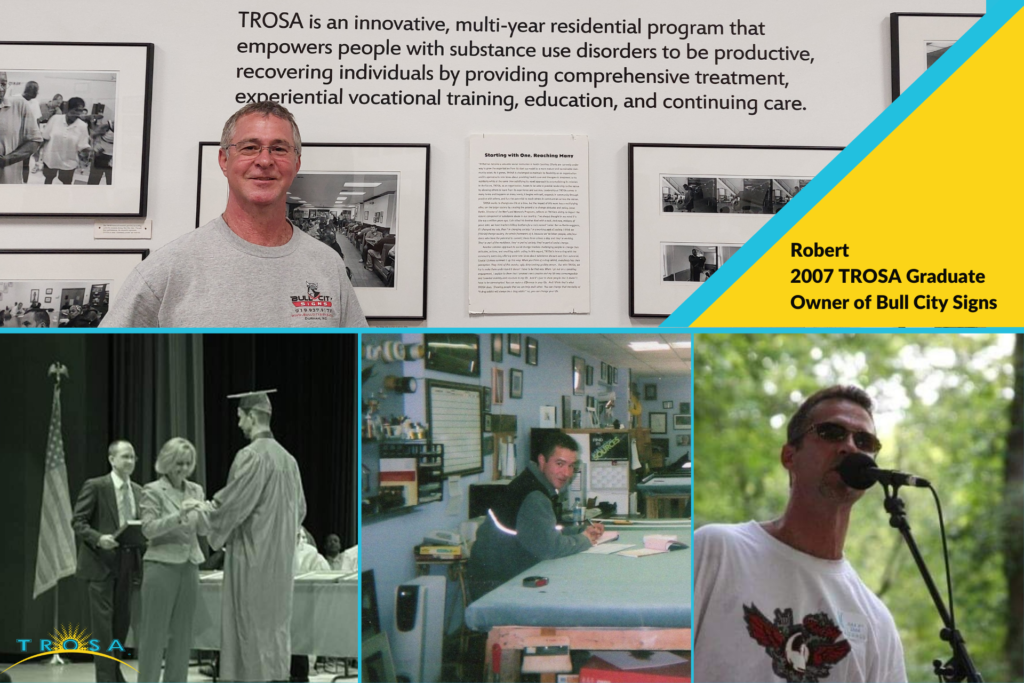 When asked if he has any favorite signs, Robert shares "there are many" but also highlights local establishments such as Motorco, The Viceroy, Surf Club, and Unscripted Hotel. "Seeing my signs all over the Triangle region is pretty cool."
In addition to his professional successes, Robert bought his first home in 2010, has three children, and is happily married.
Robert acknowledges that finding and staying in treatment can be challenging, but his important advice to others should resonate with all who are working towards their goals: "Give yourself a break, and don't give up. It will take plenty of work…but it's worth it."
We are proud of all our courageous residents and graduates in recovery and thank Robert for sharing his story!