Darrell's drinking cost him everything. He started TROSA's multi-year recovery program on March 20, 2014. "I started to get my life back that day," he shares. "And life just keeps getting better and better."
TROSA provides free housing, meals, clothing, health services, evidence-based counseling and classes, vocational and life skills training, peer support mentorship, education advancement opportunities, graduate post-program services, and more. Most importantly, TROSA provides the time and the space for men and women to make important life changes. After two decades in addiction, Darrell was desperate for such a change.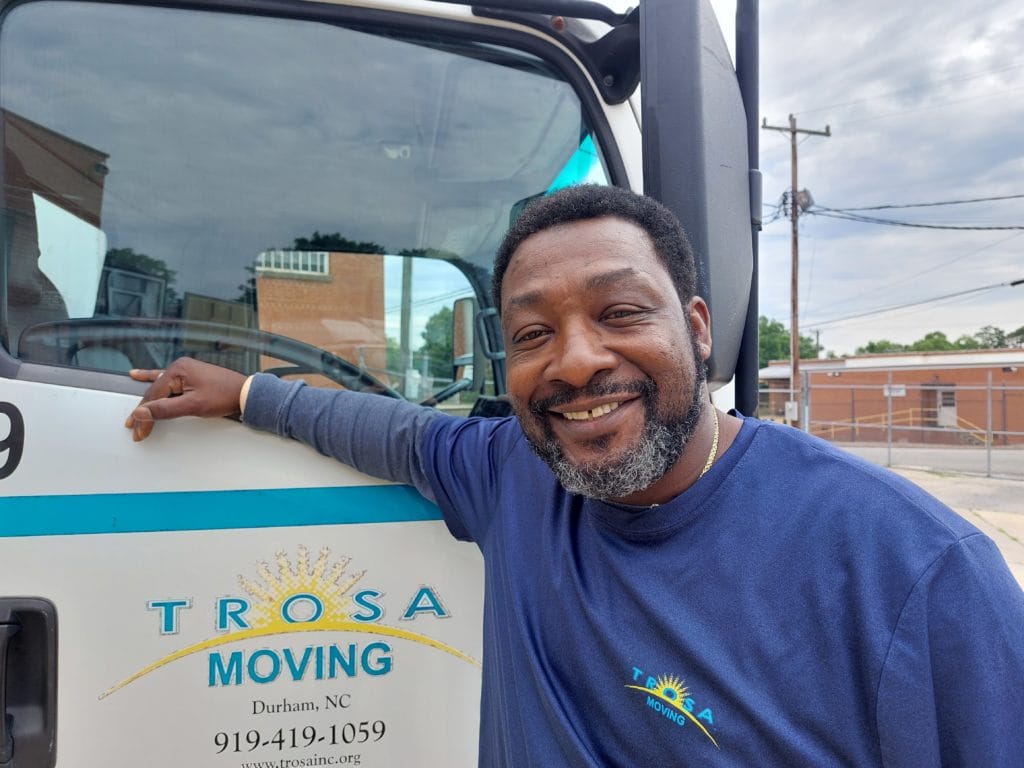 "At the age of 14 or 15, I started drinking. My senior year of high school was when drinking became a regular thing. It got to the point where I felt I needed it every day. It got out of hand. I actually didn't notice when it got out of control, but everyone else did."
His addiction derailed his life: Darrell's wife – his high school sweetheart – divorced him; he lost his license; spent time in prison; and was living from house to house…first within his extended family, and then crashing on couches of friends. Darrell's cousin was also in addiction and one day convinced Darrell that they should seek treatment. Darrell got a phone interview at TROSA. Through TROSA's linkages to community care partners he was directed first to a medical detox, and then entered TROSA's long-term treatment program.
"I didn't even think I needed all that help. I was a functioning alcoholic, but I could never admit that – I could never say that out loud."
Darrell shares that it took some time before he started to notice a real change in himself: "I needed a long-term program. I personally became aware that I needed a major change in myself at 15 months in the program. Up until then, I kept blaming other people all the time for my drinking. I just finally started listening and put my all in to changing. I finally, really wanted to change."
All TROSA residents participate in community assignments that help build life skills such as such as teamwork, communication, conflict resolution, and problem solving. Community assignments are a safe space to identify and work on behaviors and thought-patterns residents may want to change and provide the opportunity to do so with a community of support.
Darrell's community assignment was in TROSA's fast-paced Moving social enterprise. Darrell's first assignment was as an active mover and he then became a dispatcher. Darrell laughs when recalling this moment: "Did I know how to dispatch at the time? No! Did I know how to work with computers? No!" But Darrell was up for the challenge.
He watched and learned, and took computer classes at TROSA to help with the administrative skills he needed. Dispatch is a critical assignment at TROSA Moving.  The art of dispatching is making sure TROSA's residents can be where they need to be at all times.
Residents' community assignments are just one part of their treatment. Residents may have classes, therapeutic groups, counseling, and medical appointments to consider when putting together a schedule. A moving crew ideally has a mix of residents with varied experiences on the same assignment to provide ongoing peer support throughout the day, so coordinating different schedules calls for attention to detail and problem-solving skills, which Darrell learned through TROSA Moving.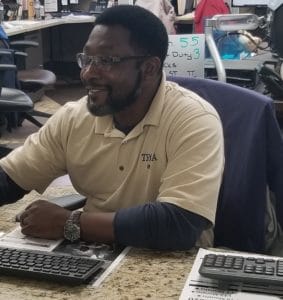 Darrell also earned back his driver's license while at TROSA: "I earned it back after 29 years without my license; after I had been told that I would never have the privilege of driving again."
After graduating from TROSA's two-year recovery program, Darrell applied to stay longer as a post-graduate, and then applied to be a Staff-in-Training. Today, Darrell is a full-time staff member and a mentor to our residents. He has trained other staff and continues to take professional development classes to enhance his skills.
"I had some college, but education and classes were not something I really focused on. Now, I'm excited to see how far I can go."  Darrell also enjoys managing TROSA's annual TROSA Tree Lots fundraiser during the holiday season. And when Darrell realized his drive for helping people, he earned his North Carolina Peer Support Specialist certification in 2017.
He also has his family back. Darrell's wife said that if he could make the commitment to putting in the work to change his life, she would be there for him again. Darrell fulfilled his goal of reuniting with his family and is thankful to have his wife by his side. They have three children and eight grandchildren. "My grandkids will never see me like I was," Darrell shares. "And that's great."
"I'm just shocked right now, looking back on my life then and seeing all that I have now. TROSA saw things in me that I didn't know I had…that I didn't know I could do. This is all exciting. I love doing this job and I love that I get to teach people. If I can make a difference and help just one person…then I've truly done my job."