From burning bridges to building community: Winston-Salem resident looks forward to TROSA opening new treatment facility for addiction in his hometown.
Carl, a longtime resident of Winston-Salem, struggled with addiction to drugs and alcohol for close to three decades. He lost his job, his home, and the support of his family. "I burned all of my bridges," he shares.
That was all before TROSA, a nonprofit residential recovery program, changed his life. Now, Carl is celebrating nearly twenty years in recovery from substance use disorder and looks forward to helping TROSA establish a campus in his hometown of Winston-Salem in 2023.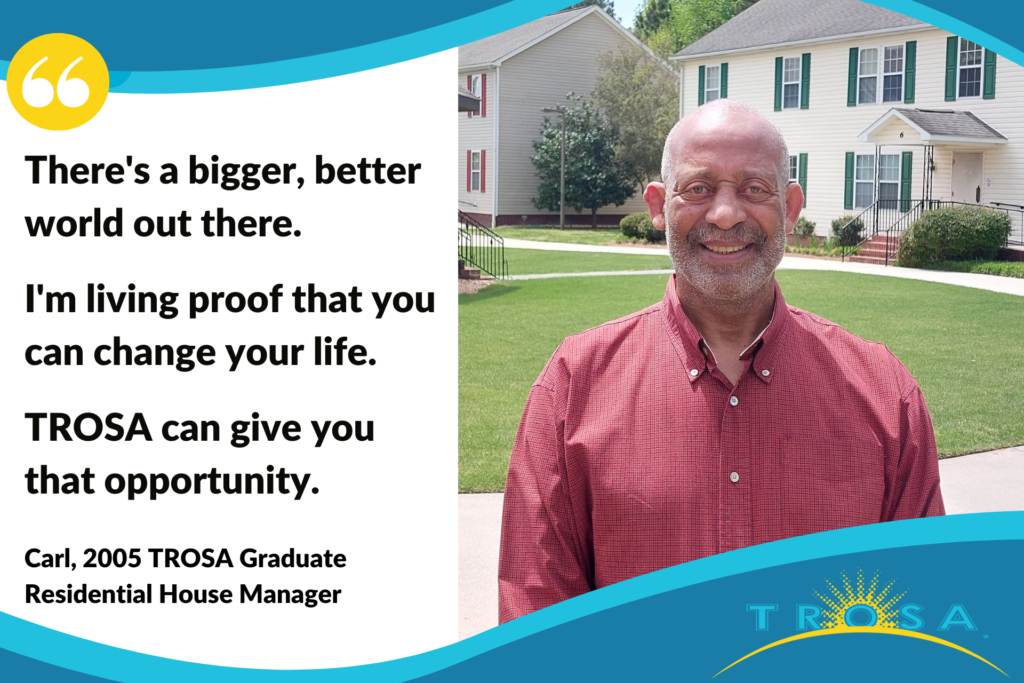 Carl enjoyed growing up in Winston-Salem. He developed a passion for basketball, eventually playing for college. On the surface, his life seemed stable: he married his high school sweetheart; started a family; and secured a good job working the night shift at a prominent local company.
At the end of every work day he would join co-workers to drink. "I thought it was just recreational drinking at the time," shares Carl. "But I just kept getting more into it." He tried other substances, and his life soon spiraled out of control.
For ten years, Carl's home was the streets. "I would just walk around the streets and find money and then get high. That's all I did." He sought refuge in shelters when he could, but also lived under bridges, alongside railroad tracks, and in abandoned houses and cars.
"I knew this wasn't the life for me, but I didn't know where to go or what to do. Every time I tried to change, I just couldn't."
While at a shelter, he overheard someone talking about a free residential treatment facility in Durham called TROSA. Founded in 1994, TROSA is an innovative, multi-year program that empowers people with substance use disorders to be productive, recovering individuals by providing comprehensive treatment, experiential vocational training, education, continuing care, and more. Carl got a ride to TROSA's campus in Durham and started the multi-year program on October 22, 2003.
A new life in recovery
TROSA's goal is to prepare individuals for long-term success through a comprehensive program of services and supports and a network of licensed clinical professionals, certified substance abuse counselors, and peer mentors.
"I learned that TROSA's values are the same values that were taught to me as a kid—honesty, accountability, education. I learned about building a foundation for myself. TROSA gave me a community that understood me and supported me."
As part of TROSA's therapeutic support services, TROSA residents receive cost free housing, meals, clothing, and all essential daily care items; vocational and life skills training; education classes and professional credentials; counseling and mentorship; continuing care for program graduates, and more.
At TROSA, Carl learned warehouse management and computer skills and was able to obtain his Commercial Driver's License (CDL). A natural teacher, Carl was soon training other residents for their own CDLs. Possessing a CDL opens doors to valuable employment opportunities to pursue after treatment.
Carl's capacity for helping others continued to flourish at TROSA. He graduated from the program in 2005 and successfully applied to stay longer to serve as a mentor to others in recovery. In 2009, he became a TROSA Staff Member.
Today, Carl has a renewed and loving relationship with his family, enjoys a full life, and is eager to help establish a campus in Winston-Salem. He knows that people need access to more treatment options across our state, especially in the Triad region, and looks forward to having TROSA as part of the region's continuum of care services.
"I've been there myself, and I very much appreciated the shelters and the services that were available to me. When I was in my addiction, the Winston-Salem community kept me alive…and TROSA gave me a life."
A chance to help more people
He is especially looking forward to sharing his story with men who have similar life experiences to him—those who may be struggling to survive day-to-day.
"People need a sense of community and perspective in order to truly change. People need to know that there is a bigger, better life out there. I'm living proof that you can change your life. TROSA can give you that opportunity. I'm looking forward to helping individuals rebuild their lives and realize that they, too, can be a positive part of the greater Winston-Salem community."