"I love to help people and I love to see people's smiles…the beautiful smiles we all have."  – Candis, 2013 TROSA Graduate
Candis is a 2013 TROSA graduate who finds joy in her family, her career, and her daily life; but she learned that to truly find that joy, she had to focus on herself. "I'm becoming the person I always wanted to be," she shares.  "TROSA gave me hope back. The hope that I could be the person that I want to become."
Candis's substance use started at a young age. "I was trying alcohol when I was about age 13, and then using other substances. I had a good childhood, but I was the rebellious child." Candis had her first child at the age of 16, and thanks to the support of her family and her school she was able to finish high school and graduate college with a degree in Family and Community Services. At the age of 21 she was introduced to new substances, "and then I tried crack cocaine and that destroyed my life," shares Candis. "I couldn't keep a job. I couldn't keep to one place. I just wasn't myself anymore." She learned about TROSA from Child Protective Services. "It was 2010. I was in an abusive relationship and using substances. I tried outpatient treatment, but I needed something more intensive. My child protective service worker told me about TROSA. I wanted to go for my kids, but I didn't stay. I realize now I just wasn't ready. I left the program after less than a month and got a job, but I knew I needed more help. I wanted to try TROSA again–and this time, I went on my own."
Candis applied and was accepted to restart TROSA's program in 2011.  "TROSA was life-saving for me. I learned I needed help to set boundaries. I needed structure. TROSA gave me the power to be responsible. I'm also not very social, so TROSA gave me the opportunity to build and make connections to other residents and to establish friendships. I learned how to have fun without drugs and alcohol. I learned how to enjoy life. It was a completely new world that I realized I had missed out on. TROSA gave me my life back." Candis's community assignments included our Kitchen, Transportation, and Finance departments.
"At TROSA's Finance department, I was an accounts receivables clerk and I learned a lot. It was a perfect fit for me and helped me to further build connections." She participated in one-on-one counseling and therapeutic groups and classes such as dialectical behavior therapy (DBT), rational behavior therapy (RBT), Seeking Safety, and parenting. Inspired to help others, Candis also earned her Peer Support Specialist certification while in the last stage of her program at TROSA, called "Work-out"—the stage where Candis continued to receive cost-free support services while obtaining a job out in the community.
"The Peer Support Specialist certificate helped me return to the field of mental health and allowed me to share my lived experience with others. Helping people is my passion. I've been working at a substance abuse intensive outpatient facility since 2015. I started as a facilitator, then a case manager, and then I earned my Certified Alcohol and Drug Counselor (CADC) certification in 2019.
"Skills that I learned at TROSA carried over to my everyday life and work. Skills like being responsible and learning how to hold myself and others accountable. My employers have told me that they recognize and admire my integrity. I learned the importance of integrity at TROSA. Absolutely, that was a skill I practiced every day at TROSA."
Candis completed her Master of Social Work degree with honors from North Carolina Central University, where she also served as secretary for her Honor Society. She is now a therapist with her LCSWA and LCASA credentials and is working to become a fully-licensed LCAS.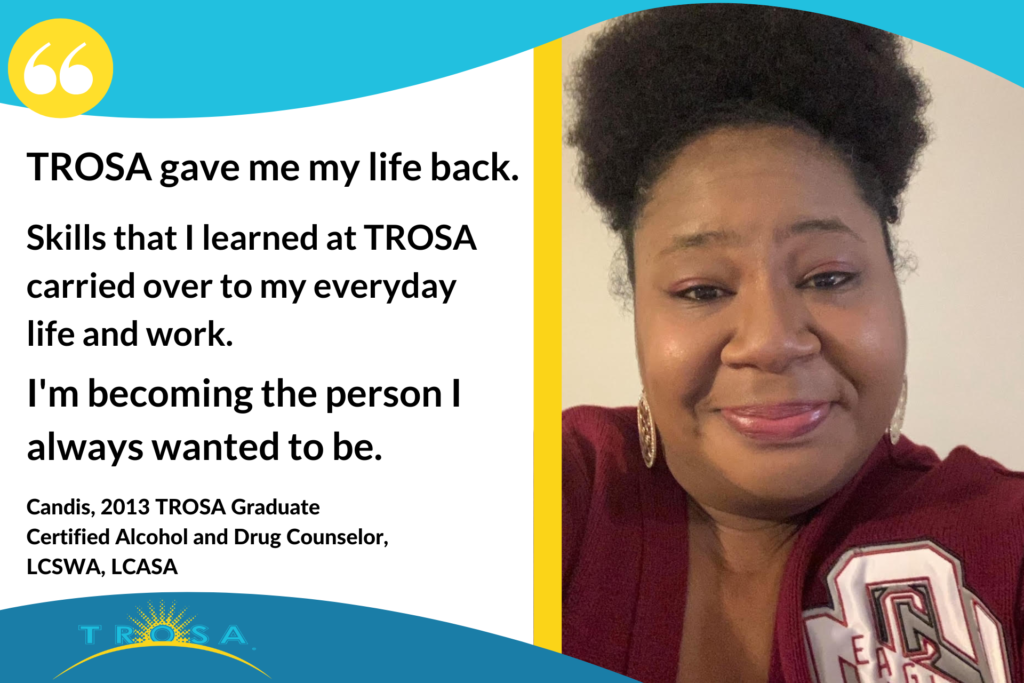 After she obtains her license, Candis shares that she would like to be a clinical supervisor, and one day start a nonprofit that helps provide resume-building, networking, and job skills training to those in need. 
When asked to share advice for someone looking to make their first steps towards recovery, Candis advises: "Try to get to the underlying issues of why you are using. The best thing I ever did was to ask for help. Let somebody know that you are hurting. Believe in yourself and ask for help." 
Candis is enjoying life and is thankful for her daily connections to recovery. She has great relationships with her family–"I am a great mom, a great sister, a great daughter, a great granddaughter, and a great cousin!"—and she finds purpose and joy in her career.
"Giving back to others—TROSA's motto of Each One, Teach One—I still live by this motto learned at TROSA. I love to see change in people. I love when a person comes in and we work through an issue and then the lightbulb 'clicks.' It's amazing to see someone go from thinking 'my life is over' to 'I have hope.' I love to help people and I love to see people's smiles…the beautiful smiles we all have."