Duke Health has awarded TROSA a Building Healthy Communities grant to help provide resources for TROSA's smoking cessation program for its residents!
Smoking is highly prevalent among people in treatment for substance use disorders, with most studies reporting between 65-85% of individuals in treatment as smokers (National Institute on Drug Abuse, 2018). While the benefits of smoking cessation for individuals in recovery are vast, not all treatment programs offer smoking cessation guidance. At TROSA, residents can receive strategies and tools to help reach their smoking cessation goals.
One TROSA resident who has stopped smoking while in our long-term recovery program is Monte. Monte started smoking at age thirteen. His determination, coupled with TROSA's resources and support, empowered him to overcome his dependence on cigarettes.
Monte's twenties were a constant cycle of addiction and incarceration. His family relationships deteriorated, and he lost his sole support system—his mother—to cancer. At thirty years old, with fifteen years in active addiction, Monte came to TROSA for help. Since starting TROSA's program, Monte has made great accomplishments. Reflecting on his program at TROSA, he says, "Learning who I really am has been part of the journey."
Monte has prioritized his physical health while in recovery. In addition to no longer smoking, Monte exercises regularly and participates in TROSA's resident running group.
As Monte's two-year program nears its end, he is eager to see what his future holds. With TROSA's help, Monte earned his ServSafe certification (a national credential for those in the food service and culinary fields) through Durham Technical Community College. He is reestablishing relationships with his family, and he looks forward to finding a job that is a good fit for his interests and that will provide stability. "This is the happiest I've been in a really long time. I can see myself doing something with my life."
TROSA thanks Duke University Health and the Building Healthy Communities Goodwill Grants Committee for their renewed support. Together, we are helping residents rebuild healthy lives in recovery.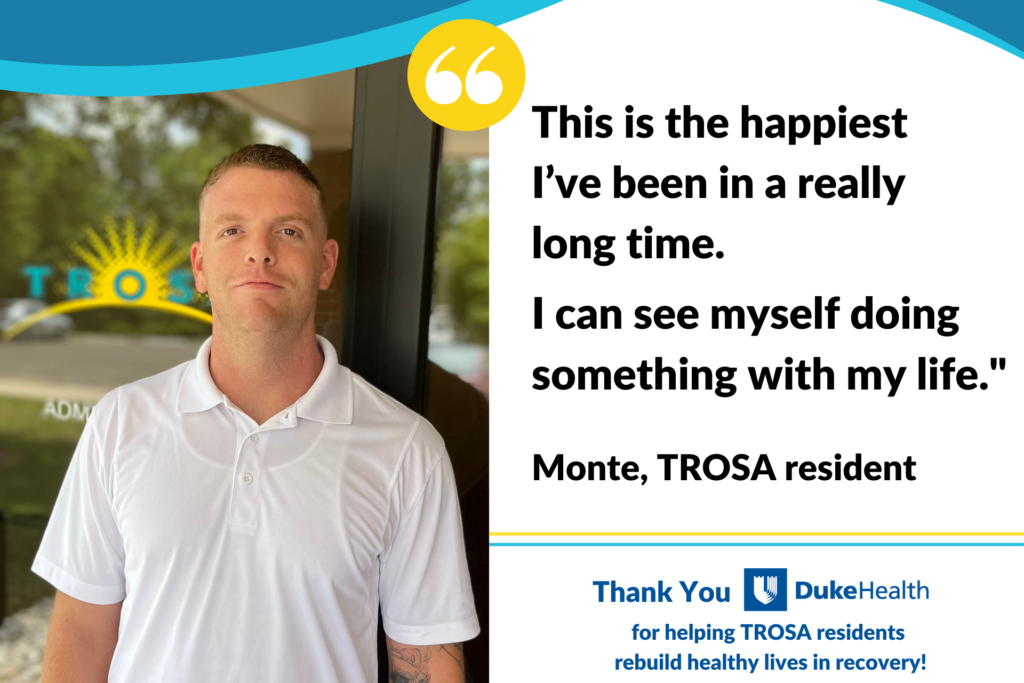 To learn more about Duke Health Building Healthy Communities grants, click here.