TROSA graduate Elisha McLawhorn was featured on Spectrum News, sharing her story of resilience and recovery and advice for what to do and say if a loved one is in addiction.
The below summary was published by Spectrum News-1 on May 5, 2022 by reporter Alexis Bell. Click here to read the full story and view the short video segment.
DURHAM, N.C. — A woman in Durham is helping others overcome substance abuse disorder after a 25-year struggle of her own.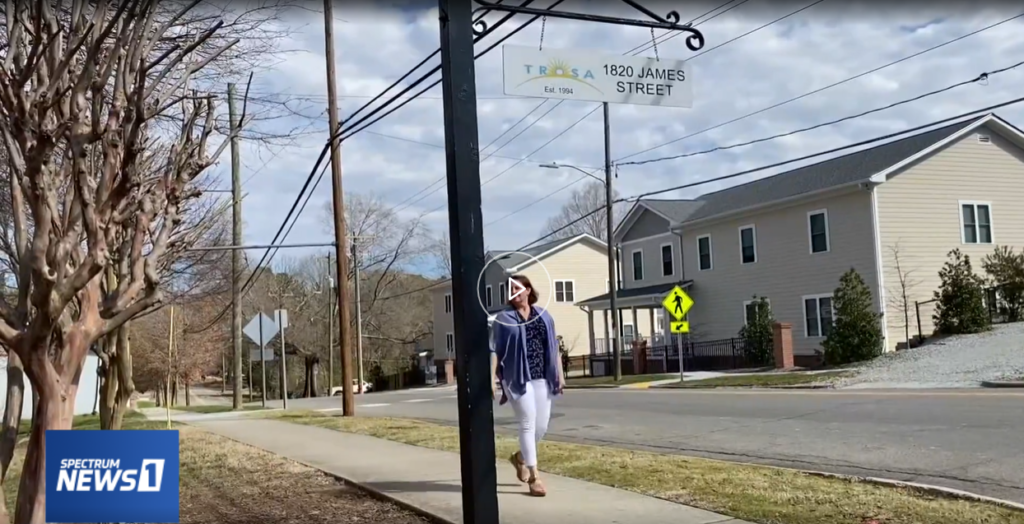 Click the above image to go to Spectrum News and watch the short video on Elisha!
Elisha McLawhorn is a substance abuse counselor and the annual gifts manager at TROSA, a licensed treatment facility. She says she grew up in High Point, watching her mom struggle with addiction and mental health issues. By the age of 15, McLawhorn says she was using about every drug there was, except amphetamines.
"Being out of reality and not having to deal with my life was my goal," McLawhorn said.
She says she never considered herself to be dependent on drugs until after she had her daughter in her 30s. She was prescribed pain pills and became addicted to opioids.
"When I began using heroin intravenously, that was it for me. I stopped caring," McLawhorn said. "My ex-husband, he told me that something needed to change and the kids needed their mom, and I started seeking out help."
McLawhorn came to TROSA in 2009. After three years of just visits with her kids and staying with about four other roommates, she graduated.
"I kind of like to think of it as, like, what it would have been if I went to college," McLawhorn said. "Having all of these women, they are my sisters now, and we are all on the same mission."
In 2014, McLawhorn became a staff member at TROSA.
She says little things you should do to support a loved one with substance abuse disorder is let them know you are there when they are ready to seek out help.
"When you make a decision to go into recovery, you have to jump on that opportunity because it could change within an hour," said McLawhorn.
She says you should also set healthy boundaries, but let that person know you still love them.
"They're not the hardcore person that society builds up," McLawhorn said. "They're just people who have hearts just like everyone else."