TROSA's program services are provided by licensed and certified treatment professionals, program graduates, peer leaders, and trained peer support specialists. As part of TROSA's comprehensive recovery services, we offer skills-based classes designed to help residents establish healthy relationships with others. 
One of our classes focuses on parenting. When residents reach the 6-month mark in their program, they can either self-select or be recommended by staff or counselors to take a six-week parenting class. Residents most often elect to take this class to help prepare for family reunification. Our class curriculum is also accepted by area court systems and recognized as a successful instructional course when parents seek visitation and custody rights.
TROSA graduate and North Carolina Certified Peer Support Specialist Carol Villiers teaches the class.
"We have several goals for the class and the format is very interactive," she shares. "We talk about structure, boundaries, communication, and what children need at all stages of their young lives–from birth to age twenty years old. Communication is really key in class. We discuss how to facilitate open communication so that children will feel safe talking to parents. We talk about tone and how to be attuned to a child's behavior. We talk about how to be alert to behavior changes and what these changes may mean."
There can be several types of challenges to navigate after a parent in recovery is reunited with a child, including feelings of guilt a parent may feel from being in addiction and away from their family. Carol shares: "Residents wonder 'is my child going to forgive me…what is that going to look like?' so we address that in class. There are serious and important topics, but it's a fun class. We do scenarios and role-playing and debriefing with each other. Residents often get ideas and advice from each other when in the class."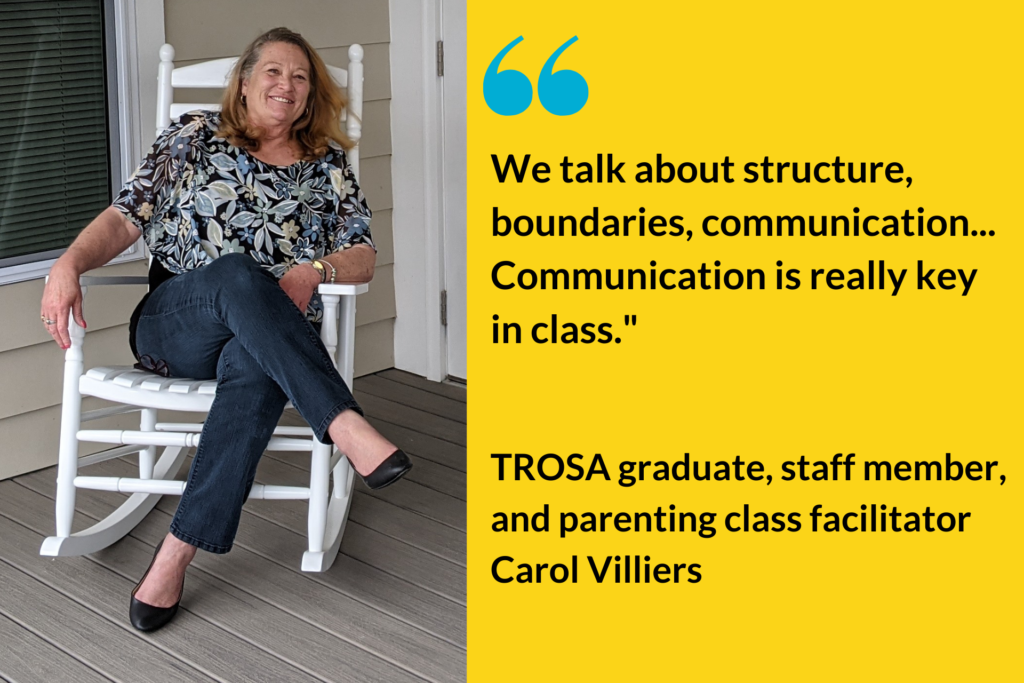 TROSA resident Doug enjoyed the class. "I learned a lot in the parenting class," he shares. "I learned that it's important–no matter what age they are–that children are able to express themselves and we as parents should listen and try to figure out why children feel like they do. We talked about how to open up and talk about feelings and thoughts with children. I also learned about the different coping mechanisms of children and why and how children react differently."
As part of our comprehensive services, TROSA provides the tools, time, and environments needed to practice and embody long-term recovery. Opportunities like our parenting class help residents to practice and plan for the best possible outcomes for long-term success. Together, we empower our residents to rebuild their lives, reconnect with their families, and reclaim their futures.