September 13 is TROSA Founder Kevin McDonald's birthday. In 2020, TROSA started a new campus tradition that celebrates recovery and Kevin McDonald on his birthday. Called Founder's Day, TROSA residents enjoy a day of special events and meals; carnival-style games and prizes; music; and more. It's a day of fun and celebration, acknowledging the perseverance and achievements of our residents in recovery.
A highlight of the day is a golf cart parade where Kevin enjoys greeting all of our residents, and rounds of BINGO, where Kevin likes to call out the first few games.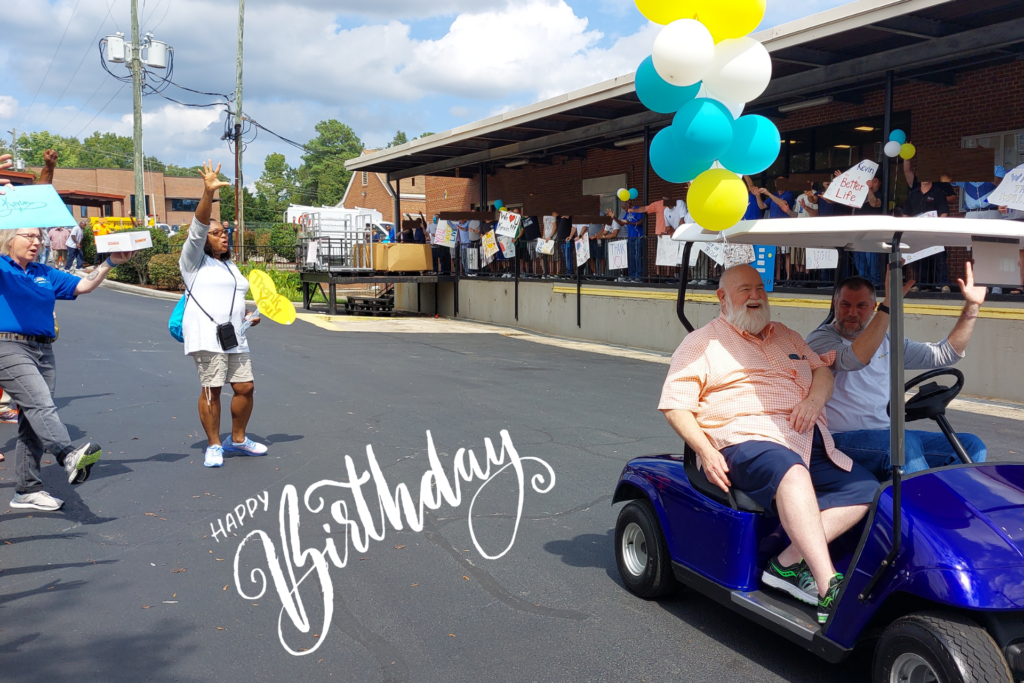 Kevin founded TROSA in 1994, taking his own lived experience in treatment and creating a truly unique program dedicated to empowering individuals to change their lives.
Kevin was thankful for the life-changing experience of recovery and believed in the core values of the therapeutic community model of treatment: asserting the importance of community; forming connections to others; and empowering individuals to grow through personal responsibility and accountability to self and others. But Kevin wanted to start a program that went further and was more expansive and holistic in its approach and mission.
As a result of Kevin's work, TROSA has helped thousands of individuals who are looking to change their lives. Along the way, TROSA has received national, regional, and community awards highlighting the expertise of our staff; the effectiveness of our evidence-based clinical practices; and the civic engagement of our residents and staff. And though never seeking awards and accolades himself, Kevin has received many throughout his nearly three decades of work at TROSA. These include AARP's Purpose Prize; Ford Foundation's Leadership for a Changing World; and the Duke Energy Citizenship and Service Award. Always generous with his time and knowledge, he has mentored and inspired many to achieve their own purpose.
In 2020, Kevin stepped away from overseeing the day-to-day executive operations at TROSA, but he remains very much involved in the life-changing experiences of our residents.
Kevin's official title is now Founder and Director Emeritus, and he continues to carry forth TROSA's mission of empowering men and women with substance use disorders.
Kevin openly shares his experiences in addiction and recovery, serving as a powerful mentor and ally for our residents–especially for our "senior residents" who have participated in TROSA's two-year program for 21 months and longer.
Many TROSA senior residents aspire to earn their own credentials in the recovery field–as Peer Support Specialists or Certified Alcohol and Drug Counselors–so that they, too, can help others rebuild lives, reconnect with families, and reclaim futures. Kevin is passing the torch to new generations of compassionate changemakers and recovery specialists.