Trauma and substance use disorders are closely linked. One of TROSA's unique elements is our capacity to effectively address trauma and the role that past trauma plays in the lives of our residents in recovery. TROSA educates staff and residents on how to recognize and respond to signs of traumatic stress symptoms. TROSA provides several trauma-informed classes and evidence-based practices to help our residents understand, process, and work through trauma in a safe and supportive environment.
In 2022 we piloted a new trauma-sensitive yoga class with our Healthy Relationships class. Read more about both classes below:
Healthy Relationships
Healthy Relationships is an example of a class that is approached with a trauma-informed lens. Taught by TROSA clinical counselors, the class provides education on and the opportunity to explore how trauma can negatively affect relationships and how not to repeat unhealthy patterns. Class activities include conversations, role-playing, skills practices, and discussions exploring the 'why' of relationship patterns.
"We've had great discussions about breaking old patterns and generating self-esteem," shares class facilitator and TROSA Counselor Chris Toenes. "By tackling trauma's effect on relationships, we hope that this will reduce trauma's effects in our residents' lives; and thus improve their journey of long-term recovery from substances."
The objectives and goals of the class include:
an increased awareness and ability to evaluate patterns in relationships and the patterns of others;
the ability to name and identity different attachment styles;
awareness of how relational patterns develop and the effect early trauma can have on adult relationships;
understanding characteristics of unhealthy and healthy relationships;
understanding the value of healthy relationships;
being able to comprehend and utilize the four elements of a healthy relationship: self-esteem, boundaries, communication, and equity.
"Relationships can be our biggest triggers or our biggest glimmers," shares class facilitator and TROSA Counselor Laura Lindsey.
"Untangling the effect of past–often traumatic–experiences in relationships to create healthier patterns is crucial for success in long-term recovery. Working on the elements of a healthy relationship provides a roadmap to relationships that equate to more 'glimmers' and overall greater recovery capital."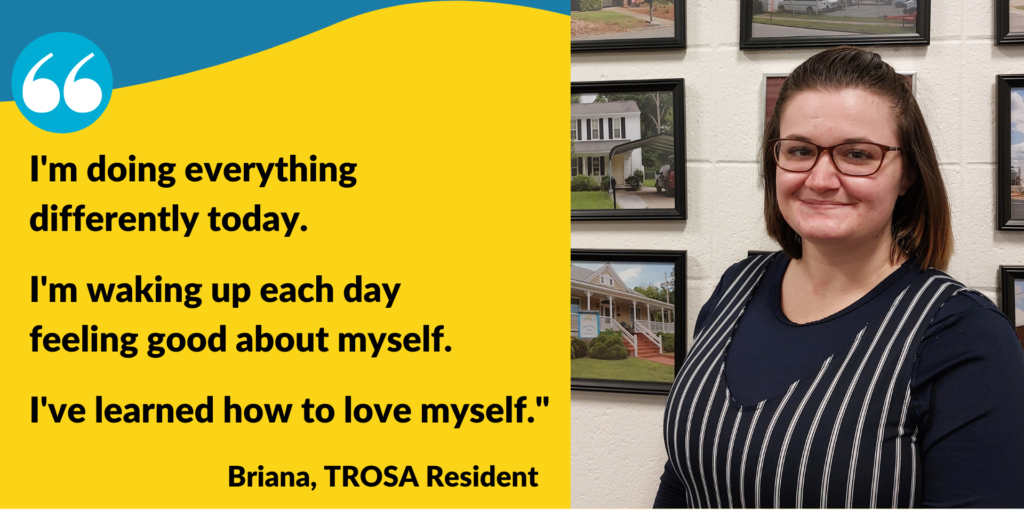 Warrior Yoga Class
TROSA introduced a trauma-sensitive yoga class for our residents in recovery. Taught by Durham-based yoga instructor Laura Phoenix, the Warrior Yoga class guides our residents through body-based practices designed to help heal from trauma.
TROSA's Director of Clinical Services Lisa Finlay is excited to welcome Phoenix to TROSA for this new class, sharing:
"Laura has many years of training and experience with teaching trauma-sensitive yoga, and working with the body using a therapy called Somatic Experiencing. There are numerous studies establishing an evidence base for yoga as an intervention for the treatment of trauma. We are fortunate to have Laura's experience and this new opportunity for TROSA residents to practice and enhance their embodied skills and recovery outcomes." 
Phoenix was equally eager for the chance to share her practice with our campus: "I've known TROSA for many years as a community member," she shares. "And I admire TROSA and its residents."
The class focuses on several key areas designed to help our residents feel empowered, safe, and in control of their bodies and goals. Focusing on present moment experience takes precedence over following specific yoga forms and poses. This provides residents with the opportunity to increase their interoceptive awareness and have a greater understanding of their emotional and mental states.
"There are infinite things you can focus on when in a yoga class," explains Phoenix. "I articulate through language and I give ideas about the ways that residents can move their body, but I repeatedly reinforce that the choice is theirs. I offer forms, but it's just that–an offer. Choice-making throughout the class is a key component."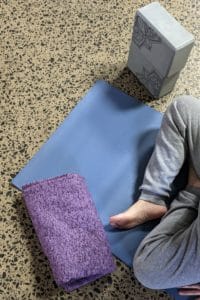 Trauma-sensitive yoga aligns well with our mission to empower residents to be productive and recovering individuals. Meaningful recovery is most effective when people feel safe and secure. By providing for our residents' emotional, mental, and physical needs, we offer individuals the time, space, and community to truly focus on rebuilding healthy lives.
Phoenix shares that the primary goal of the class is empowerment. "I want participants to know they are in charge of their bodies. I make it clear in class that though I'm facilitating the class, I am not in charge…we are sharing power and it's ok to ask questions. When we have trauma, it's hard to feel safe in our bodies. I hope that when residents walk out of the yoga class they can hold that sense of autonomy and feel safer in the world."