Spotlight on TROSA's graduate-level mental health counseling intern Stephanie Perez Toro! Stephanie is currently finishing her mental health counseling degree program at Wake Forest University and will soon graduate with a Master's in Mental Health Counseling.
Stephanie was originally pursuing a career in neurosciences. Through her on-the-job experiences as a medical assistant she discovered her passion to help patients with their mental and emotional needs. As a graduate intern, Stephanie helps TROSA's clients through a variety of evidence-based clinical therapies and techniques including cognitive behavioral therapy (CBT), dialectical behavioral therapy (DBT), and motivational interviewing.
TROSA's Director of Clinical Services Lisa Finlay has been grateful for Stephanie's contributions to our counseling team and campus. Graduate-level counseling interns add tremendous value to our program while receiving direct experience working with individuals with co-occurring mental health and substance use disorders.
"We have wonderful reciprocal relationships with graduate counseling interns here at TROSA," shares Lisa. "TROSA is a fantastic place to learn and grow as a counselor; and as much as the student interns benefit, more of our TROSA residents get to experience counseling because of them. Interns here get exposure to a variety of co-occurring disorders (addiction and mental health) and see our residents for long-term counseling. This is very rare in the kinds of environments that are usually available to graduate student counselors. I know that I would have felt so much more confident and prepared if I had done an internship at TROSA when I was in school."
As Stephanie approaches graduation, we wanted to share her professional journey and internship experience through this brief interview.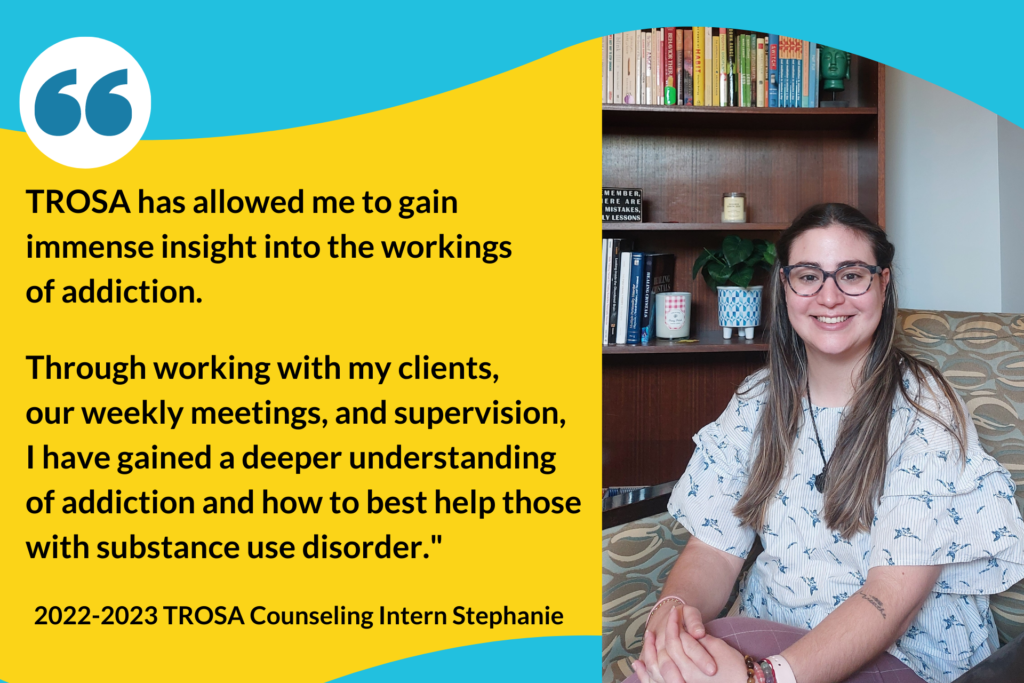 Q: Share your interest in mental health counseling. How did that come about and what inspired you to choose counseling as your career?
Stephanie: My interest in counseling started at a very young age. When I was 12 years old, I became my mother's caretaker after she was diagnosed with chronic depression and fibromyalgia. Through caring for her, I knew that I wanted to be in a field that helped others. Originally, I set out to become a doctor. After graduating from UNC I worked as a medical assistant for five years. Here was where I realized that I in fact did not want to become a doctor, but rather a counselor. All of my patients were struggling with underlying stress, whether it be grief, financial issues, work stress, or just general anxiety. I noticed that they just needed someone to talk to and listen to them. My husband was deployed in 2019, and I took it upon myself to apply to Wake Forest's online master's program in counseling, and the rest is, well…history!
Q: Prior to TROSA, did you have experience working with individuals in addiction and/or in recovery?
Stephanie: I did. My uncle had an alcohol use disorder and I witnessed this growing up. I remember the stress that it brought upon our family, especially when we did not know if he was okay. He found meaning through religion, and has been sober for quite a few years now. When I worked in primary care I had some patients that struggled with addiction, and I would listen to their stories and trauma history. Still, I never felt like I had enough time with them, which is part of what led me to become a counselor as well.
Q: Describe your typical day-to-day at TROSA.
Stephanie: My typical day-to-day at TROSA consists of seeing an average of 4 or 5 clients a day. In between my sessions with clients I formulate treatment plans for them and prepare for my next session by recapping the client's previous visits. I also lead two Wellness Recovery & Relapse Prevention classes for those individuals that have been here 15+ months in the program. As part of my internship, I am required to have one hour of supervision a week, which is done with Director of Clinical Services Lisa Finlay.
Q: What do you think your mental health counseling internship experience at TROSA is adding to your graduate program in terms of learning about addiction and counseling?
Stephanie: In terms of learning about addiction and counseling, TROSA has allowed me to gain immense insight into the workings of addiction. I will admit that prior to working at TROSA I had my own preconceived notions about addiction due to my own experiences with individuals with substance use disorder. I have realized that addiction is not a black and white matter, but rather there is a large gray area to it. Through working with my clients, our weekly meetings, and supervision, I have gained a deeper understanding of addiction and how to best help those with substance use disorder.
Q: Thank you for caring for our residents. How do you take care of yourself…any tips for others?
Stephanie: I can't say this enough, but self-care is so important! For me, it is mostly about listening to my body and understanding when I need a break. As humans we are constantly in automatic pilot and I remind myself to be mindful during these moments. Things that I do daily that are non-negotiables are my skin care routine, walking the dogs, and watching my favorite show for at least 30 minutes after work to decompress. Other things that I try to incorporate in my self-care routine are monthly massages, journaling, yoga, and meditation. The biggest tip that I can tell others is that it is okay to not be okay. What is not okay is not listening to that part of you that is telling you, "take a break." When you do notice this, do what makes you feel happy so that you can avoid burnout.
Q: Would you recommend TROSA as a site for other graduate students? If so, what type of graduate students might find TROSA most helpful as a learning site?
Stephanie: Absolutely! Those that already know they want to specialize in addiction counseling would highly benefit from working here at TROSA. This is a great program for graduate students.
[Interview published March 7, 2023]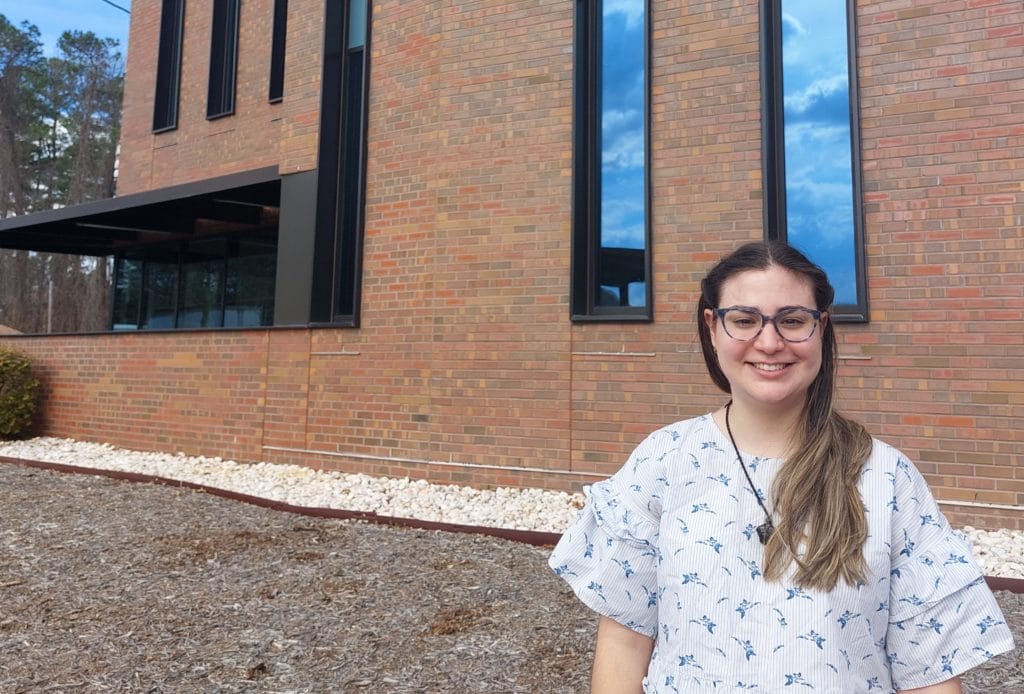 Stephanie outside of TROSA's on-campus Comprehensive Care Center, which houses our counseling offices