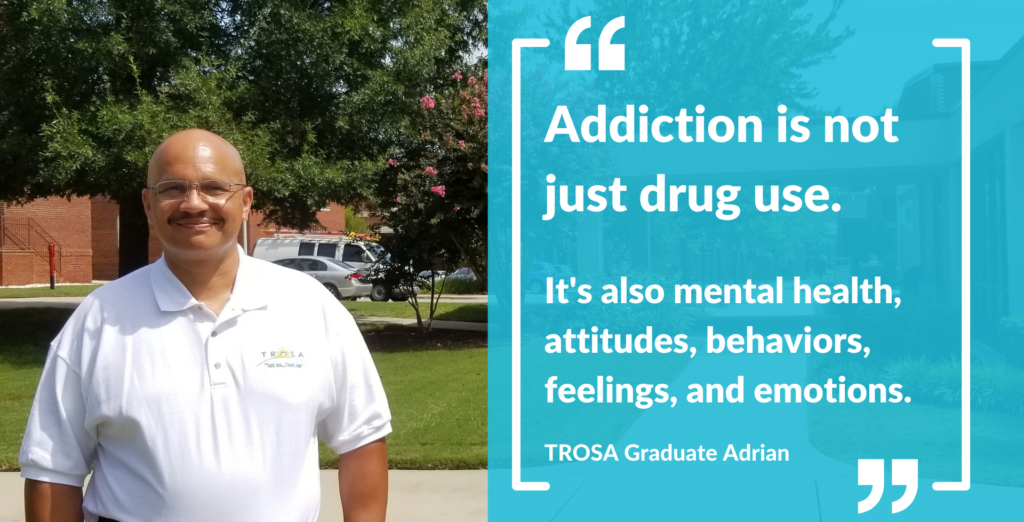 "TROSA is long-term, which I needed after a 22-year drug addiction. I had tried shorter programs before, but TROSA is where I changed my life."
Adrian graduated from TROSA's recovery program in February 2019. "A lot can change in three years. I went from being in addiction for more than 20 years to being a positive role model in my community. My little sister was in the audience at the ceremony, watching as I proudly accepted my graduation ring and diploma," shares Adrian. "The last time I had seen her was three years before—in a courtroom where she was granted a restraining order against me.
"I had a happy childhood. My life was church, school, and sports until my mother died when I was 14. Her death shattered me."
Seeking connection, Adrian fell into gang activity and was locked into a cycle of addiction and incarceration. "I was in and out of prison a lot—I did 19 years total. My family told me not to contact them again unless I got help. I've been through a lot. I lived through prison riots and gang fights. I watched my friends get shot in the streets. But nothing had ever hurt me like the loss of my family. I knew I had to do something to get my family back."
Wanting a better life for himself, he tried many times to change but couldn't get to the underlying issues needed to address his substance use disorder. Adrian learned about TROSA and was drawn to its structure, multi-year services, and community-minded approach to treatment. At TROSA, Adrian was able to learn about his addiction, address his mental health needs, set goals, and practice new life skills every day in a supportive community of men and women in recovery. TROSA's on-site licensed counseling team, peer-based groups, evidence-based therapies, and opportunities for learning and practicing behavior changes through daily community assignments is what makes TROSA residents and graduates so successful.
"What I'm most proud of in my new life is being able to give back. I chose to stay on at TROSA as a 'Staff-in-Training.' In 2020, I became a staff member at TROSA, and I work with the TROSA Men's Program, primarily helping the men who are new in the program. Helping others who are where I used to be keeps me focused on my goals and I will continue giving back."