TROSA is working on two campus enhancement projects that will help us carry out our mission: providing evidence-based care for individuals with substance use disorders.
T-West Campus: 
On March 21, 2022, TROSA was granted a Major Special Use Permit by a unanimous vote from the Durham City Council to expand the capacity of its main campus at 1820 James Street ("T-West").
TROSA serves a daily average of 400 individuals in recovery who are participating in our therapeutic residential treatment program. Men and women live at the 1820 James Street campus, as well as other TROSA-owned locations throughout Durham. Currently, 1820 James Street can house 275 individuals. The Major Special Use permit will increase this capacity and allow TROSA to add a new two-story dormitory, additional classrooms, and offices to support residents and staff. This permit will allow TROSA to eventually consolidate housing to its central James Street location as needed to best and most efficiently serve its growing population.
TROSA President and CEO Keith Artin said increasing the residential capacity and potential for growth at this location will leave room for other future developments as TROSA continues to grow.
"We are very excited," shares Artin. "As we continue to serve more people needing our help, one of the things we always struggle with is 'how do we keep a sense of community; how do we keep people feeling connected to one another as the program grows?' And this project will help us do that better than ever before. Our residents and staff are very much looking forward to this growth and enhancement of our main campus."
The new TROSA project is expected to be completed by the end of 2024.
At the Durham City Council vote, Former City of Durham Mayors Bill Bell and Nick Tennyson and Tuscaloosa-Lakewood Neighborhood Association Board President Grant Gardner delivered special remarks endorsing the project. Durham City Council Member and Mayor Pro Tem Mark-Anthony Middleton shared that "the real building blocks of our city are people's lives" and congratulated TROSA on its continued success helping men and women with substance use disorders.
Photo above: Architect's rendering of the new dormitory and facility enhancements at TROSA's main Durham campus.
T-East Campus: 
At 1815 James Street, TROSA has begun Phase 2 of a multi-phase project called "T-East." T-East is located directly across from our main campus and focuses on expanding and enhancing the residential and community spaces for our TROSA Women's Program.
For many years, our female residents lived off-campus in an older TROSA-owned building in downtown Durham. They traveled to our main campus for classes, medical appointments, counseling, daily program activities, and special events. The older building needed major renovations, had little privacy, and was logistically challenging to coordinate daily travel. As demand for TROSA grows, we decided the time was now to enhance and expand our Women's Program with a dedicated campus.
T-East's Phase 1 construction started with two award-winning residential buildings for the TROSA Women's Program. These Phase 1 buildings were completed in 2020 and won the 2021 North Carolina Housing Finance Agency (NCHFA) Award for Best Supportive Housing. Click here to see a video that NCHFA produced for our award ceremony. Connection and community are vitally important for TROSA, and these residential buildings provide greater proximity to our daily program activities and increase connection throughout our campus.
Phase 2 involves building a community center and a third residential building for the Women's Program. The community center will be a central hub of activity for our Women's Program and will play a key role in continuing to create a network of support that is critical for successful long-term recovery.
You can help support our Women's Program today! Click here to learn more about the Women's Program campus and our campaign to rebuild lives.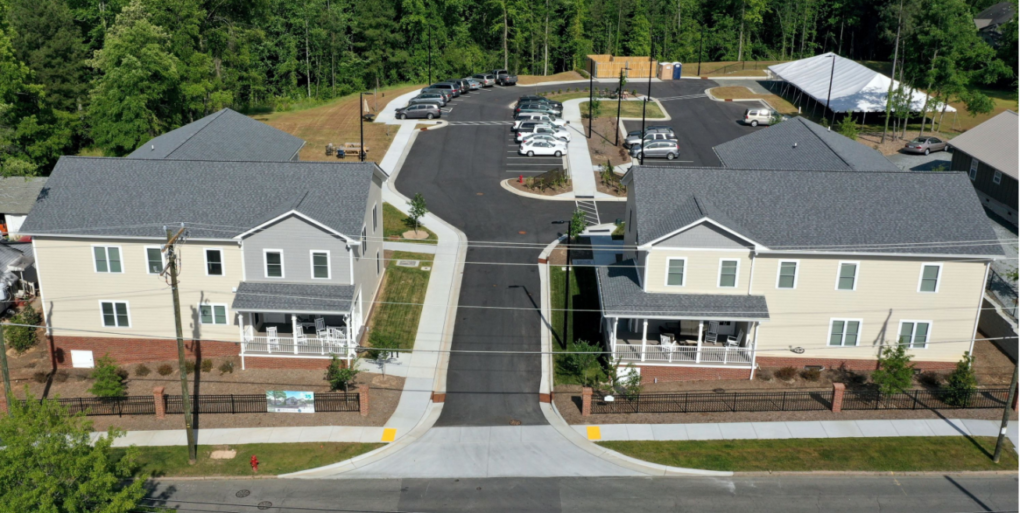 Photo above: TROSA's T-East campus. The two residential buildings pictured serve as home for our current residents in TROSA's Women's Program.
A Note of Thanks to TROSA's Neighbors
TROSA Chief Operating Officer Kristen Rosselli has these words to share with the Tuscaloosa-Lakewood Neighborhood Association, whose ongoing partnership has helped to make these campus enhancements possible: "On behalf of TROSA's staff and our courageous residents and program graduates, we want to thank our neighbors and friends for your continued support of TROSA and our goal of rebuilding lives, reconnecting families, and reclaiming futures. We are continually moved by our neighbors' generosity of spirit and our shared commitment to a high quality of life in Tuscaloosa-Lakewood. We look forward to continuing our partnership and thank you very much for your trust in our work and your support."