1994: Founding TROSA
TROSA History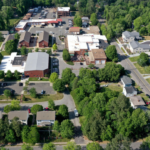 TROSA was founded in 1994 with Kevin McDonald at the helm and just $18,000 in the bank. Durham County Commissioners showed their support by voting unanimously to lease the Old North Durham Elementary School to TROSA for $1 per year and the Durham Chamber of Commerce provided a grant to help start our program. In order to provide vocational training and generate additional revenue, Kevin began a potato peeling social enterprise and later a moving service.
During the next two decades, TROSA grew by every measure: the number of residents, facilities, programs, staff, and social enterprise success. The facilities expanded to include dedicated spaces for commercial operations and, with the purchase of a 13-acre site (formerly the Lakewood Dairy, and now our central campus), spaces for administrative, medical, and intake offices.
We received our state license as a therapeutic community and began collaborating with Duke University Medical Center to accept residents with co-occurring mental illness diagnoses. As TROSA grew, we were able to add more specialized programs such as therapies for women and individuals with post-traumatic stress disorder as well as continuing care services for graduates including relapse prevention groups; transportation to/from work or school; and safe, stable housing.