1994: Founding TROSA
Our first 15 years: Growth and foundation-setting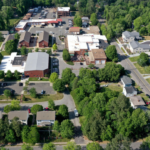 TROSA was founded in 1994 with Kevin McDonald at the helm and just $18,000 in the bank. Durham County Commissioners showed their support by voting unanimously to lease the Old North Durham Elementary School to TROSA for $1 per year and the Durham Chamber of Commerce provided a grant to help start our program. In order to provide vocational training and generate additional revenue, Kevin began a potato peeling social enterprise and later a moving service.
TROSA's full name is "Triangle Residential Options for Substance Abusers, Inc.", though we have grown to serve and benefit individuals far beyond the Triangle, North Carolina region.
During the next two decades, TROSA grew by every measure, including the growth in residents served, facilities, programs, staff, and social enterprises. The facilities expanded to include dedicated spaces for commercial operations and, with the purchase of a 13-acre site (formerly the Lakewood Dairy, and now our central campus), spaces for administrative, medical, and intake offices.
We also received recognition and accolades for our work as we continued to grow. We received our state license as a therapeutic community. And we began collaborating with Duke University Medical Center to accept residents with co-occurring mental illness diagnoses.
As TROSA grew, we were able to add more specialized programs such as therapies for women and individuals with post-traumatic stress disorder as well as continuing care services for graduates including relapse prevention groups; transportation to/from work or school; and safe, stable housing.